Conservatives are furious at Rep. Thomas Massie, R-Ky., for what they see as a betrayal after he voted for the debt limit agreement reached by President Biden and House Speaker Kevin McCarthy, R-Calif.
Massie, who sits on the House Rules Committee, stunned deficit hawks Tuesday when he became the deciding vote advancing the Fiscal Responsibility Act to the House floor, with his typical allies, Reps. Ralph Norman, R-S.C., and Chip Roy, R-Texas, voting against. "I respect opposition to the Fiscal Responsibility Act, but I am voting yes," Massie said Tuesday.
The Biden-McCarthy agreement suspends the debt limit with no cap through Jan. 1, 2025, while also cutting non-defense spending to near fiscal 2022 levels, capping growth at 1% for the next two years and proposing non-mandatory caps for the four years after. It also claws back some money aimed at the Internal Revenue Service and some unspent COVID-19 pandemic funds. "I've been in Congress for a decade and this is the first real bill that cuts spending," Massie said. 
Russ Vought, who served as former President Trump's director of the Office of Management and Budget and opposed the bill, accused Massie of going over to "the dark side." He called out Massie on Twitter and argued that the spending caps set in the bill will be counterproductive.
MCCARTHY-BIDEN DEBT CEILING DEAL PASSES BIG PROCEDURAL HURDLE IN HOUSE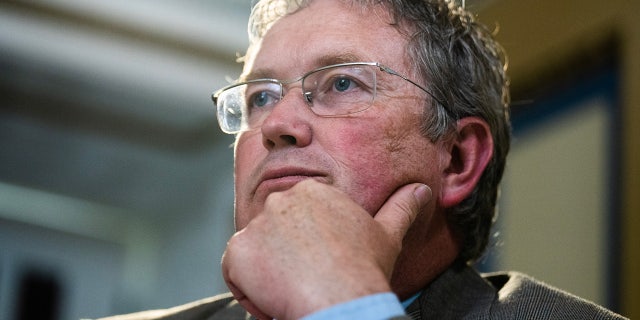 "As you know, when the caps are set, they become a floor and a ceiling. The idea that passing this deal will allow you to focus on the appropriations process is nonsensical," Vought tweeted. He argued that the forced 1% spending cut that triggers if Congress fails to pass 12 appropriations bills as part of regular order will incentivize future lawmakers to waive caps and increase spending — as has happened previously.  
Responding, Massie pointed out the Trump White House, in which Vought served, approved $2.2 trillion in deficit spending as part of the federal government's COVID-19 pandemic response, which Massie had opposed. 
"Russ Vought was Trump's budget director the year they urged Congress to spend $2.2 trillion for the CARES Act and the Fed created $5 trillion out of thin air to monetize the biggest debt increase in history," Massie tweeted. "Glad to see you in the fight for fiscal responsibility @russvought!" 
"Your path to the dark side is now complete," Vought replied. "You have become your enemy." 
DEBT CEILING AGREEMENT IN PRINCIPLE REACHED BETWEEN DEMOCRATS, REPUBLICANS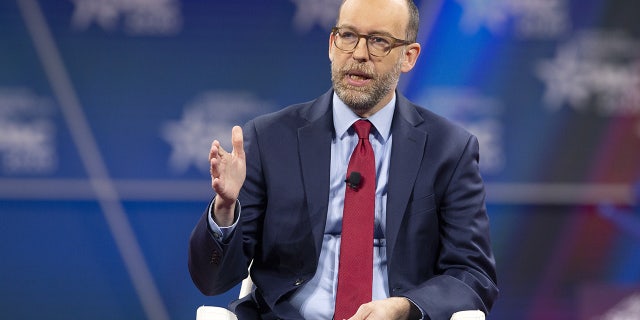 Massie's office did not respond to multiple requests for comment. 
This back-and-forth over the debt deal highlights the deep divisions that remain between Republicans and the conservative movement's activist wing. Hardliners see compromise as treason and argue the deal Republicans struck with Biden is insufficient.
"We ought to do better. The Limit, Save, Grow Act was a responsible approach to actually reduce spending, to change how this town works," Rep. Chip Roy, R-Texas said Tuesday before the Rules Committee vote. "This doesn't represent any material change in the direction the country is going in terms of spending."
GOP TOUTS MCCARTHY-BIDEN DEAL AS 'CONSERVATIVE' VICTORY AS SOME REPUBLICANS DEFECT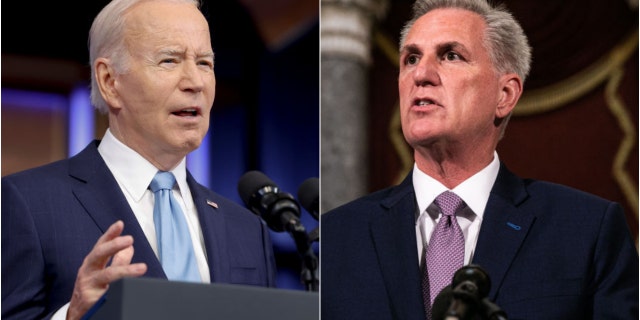 However, GOP leaders say that with a Democrat in the White House and Senate Majority Leader Chuck Schumer, D-N.Y., in charge of the Senate, it is not realistic to achieve much more. 
"This bill is clearly not everything that I want by any means, I wanted a lot more. But it's definitely better than the blank check debt limit that the president was pushing," House Ways and Means Committee Chairman Jason Smith, R-Mo., said Tuesday. 
CLICK HERE TO GET THE FOX NEWS APP
It is a familiar argument, one Republicans have made before, and one that will doubtless become an issue in their 2024 primary campaigns.