Speaker Kevin McCarthy, R-Calif., and his allies boasted the new debt limit agreement will pass, even though details of the actual package still remain scarce among House members as they face a 72-hour time window before an expected vote Wednesday.
"This is the biggest set of spending cuts and substantial change from the spending of the last two years for this administration, that is, that is changing the trajectory of the fiscal house here in Washington," House Financial Services Chair Patrick McHenry, R-N.C., told reporters on Sunday morning. 
He and Rep. Garret Graves, R-La., McCarthy's two top negotiators, addressed the media alongside the speaker just hours before the final bill text is expected to be released. 
Though touting dramatic cuts to spending in multiple media appearances Sunday, McCarthy was still mum on most of the biggest questions that remain about the bill – namely, whether both sides agreed to freeze nondefense discretionary spending at fiscal 2023 levels or roll them back to 2022. 
"But in terms of the fiscal house, you want to understand what's happening now. We have spending caps in place, spending caps take nondefense discretionary spending down to $704 [billion]," McHenry said. "And we hold vets harmless. So this means that for nondefense, non-veteran spending, there are significant cuts year over year."
DEBT CEILING AGREEMENT IN PRINCIPLE REACHED BETWEEN DEMOCRATS, REPUBLICANS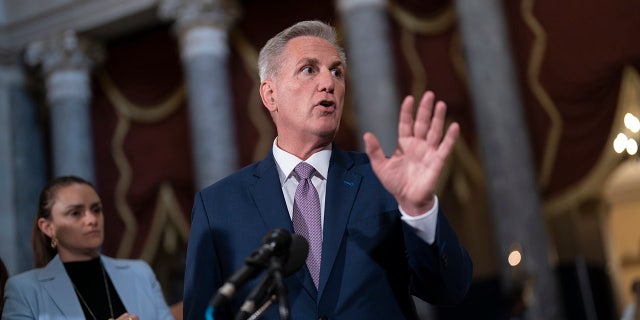 Fiscal year 2022 cutbacks on spending, which was something conservative Republicans demanded, would be roughly $130 billion to $150 billion lower than the current level, which was set by Congress last year at around $772.5 billion.
McCarthy said when asked about fiscal year spending levels set by the deal, "What this will do is, it increases defense and it increases veterans. If you take nondefense with veterans out it goes below the level of 2022."
However, he brushed off the rumblings of conservatives within his conference, several of whom voiced their disdain for the bill on Saturday night based on the announced agreements and reporting on the details. 
MCCARTHY CITES 'PROGRESS' IN US DEBT-CEILING TALKS WITH WHITE HOUSE
Rep. Chip Roy, R-Texas, called the deal a "turd sandwich" on Twitter and disputed McCarthy's claim that 95% of his conference supports it, writing, "I know of more no's than that already." 
"This 'deal' is insanity," wrote Rep. Ralph Norman, R-S.C. "Not gonna vote to bankrupt our country. The American people deserve better." 
But the speaker brushed off any concerns that conservative hardliners could move to take away his gavel over the bill, declaring he was "not at all" concerned about that.
"We did a conference call with our conference, and over 95% were overwhelmingly excited about what they see. They haven't had – they're getting the text today," McCarthy said. "You're gonna have Republicans and Democrats be able to move this to the president."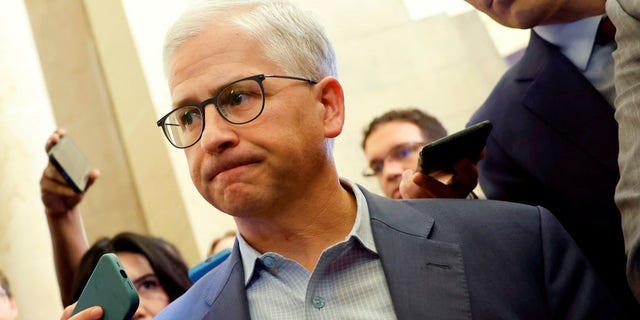 He also signaled that he was holding back from giving further details until he could speak with President Biden today – and took shots at the press for reporting details that were leaked on Saturday.
"We just want to get back together now that we've finalized all the language, make sure both sides agree that the language is what we agreed to as we spoke," McCarthy said. "So once we have that we'll post it. Now a lot of our members were reacting to whatever rumor you guys are writing about. Let's let the members actually read the bill before they make a decision and go forward."
House Minority Leader Hakeem Jeffries, D-N.Y., on Sunday pushed back against McCarthy on CBS' "Face the Nation" after the speaker said, "The one thing Hakeem told me, there's nothing in the bill for them. There's not one thing in the bill for Democrats." 
"I have no idea what he's talking about, particularly because I have not been able to review the actual legislative text," Jeffries said. "All that we've reached is an agreement in principle."
DEMOCRATS, GOP TRADE BARBS OVER WHO AMERICANS SHOULD BLAME FOR DEBT CRISIS: 'IT'S PRETTY OBVIOUS'
McCarthy announced to reporters late on Saturday night that both sides had reached an agreement in principle, with the legislative text of the new bill to come sometime on Sunday afternoon. He estimated that it would come in around 150 pages, with a source telling Fox News Digital that it's expected to be just under that count.
A letter sent to House Democrats by Jeffries confirmed the legislative text would come out sometime on Sunday afternoon, and revealed that Biden and McCarthy are scheduled to talk again sometime in the early afternoon.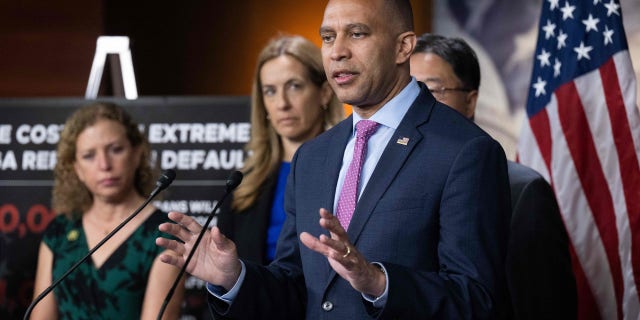 "I have been informed that the agreement will be finalized once legislative bill text prepared by House Republicans has been reviewed by the Biden administration," the letter said.
Top Biden administration officials are scheduled to brief the House Democratic caucus "on all aspects of the agreement to avoid a default" around 5 p.m., Jeffries also wrote. 
CLICK HERE TO GET THE FOX NEWS APP
No details of the bill were made formally public as of late Saturday night, but pieces of the agreement began seeping through the cracks soon after the announcement was first reported.
An internal House GOP memo that outlines messaging points for the deal says McCarthy and the White House have agreed to cut non-defense discretionary spending to fiscal 2022 levels, a key asking point for Republicans. It also claws back billions of unspent COVID-19 pandemic funds and includes permitting reform to speed up approvals for energy and infrastructure projects.