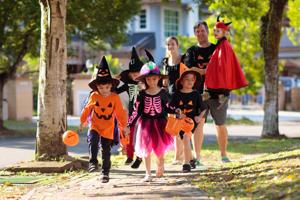 Looking for a good scare this Halloween? Fans come from all across the state and the country to walk the Old State Mine Haunted Trail in Peoria every October.
Dee Lawson, one of the directors of the fright show that is the chief fundraiser for the Old Peoria State Hospital Museum, said people say the experience is like trekking through a nightmare.
A coal cart takes small groups of 12 down to the mine entrance where the trail begins. Timed entrances keep the groups isolated, making people feel stranded and vulnerable as they proceed down the trail.
Legend has it that miners in 1820 were digging for gold when their picks accidentally stirred up and released an evil substance called Doom that brings monsters to life.
"Doom has infested the mine. It has infested the old town that is connected to the mine. And it has infested the train station where mysterious crates and shipments from Transylvania and Egypt and other places bring in monsters to be revived by Doom," Lawson said.
The State Mine Haunted Trail is serious about giving people a PG-13-rated scare, Lawson said. Children under the age of 14 must be accompanied by an older guardian.
The Haunted Trail is not for the faint of heart. People who don't want the full horror experience have the option of carrying a glow stick so that the monsters know to back off a little.
It takes about 20 minutes to get through the mine. Then people make their way across the
grounds on a second trail that ends at a creepy old brick building, dubbed The Darkwell Museum. All bets are off when the dangerous substance–Doom–hits the crates and boxes, and long-dead monsters break out and start walking around.
The Haunted Mine Trail is the number one fundraiser for the Old Peoria State Hospital Museum, a historic property that once was home to 63 buildings.
Peoria State Hospital became a shining national example of the humane way of housing and treating the mentally ill.
Dr. George Zeller, a mental health reform leader in 1900, made his reputation by taking the bars off the doors and windows of the asylum. He refused to tie patients to their beds and keep them in restraints. He instituted empathetic and forward-thinking treatments for everyone from alcoholics and epileptics to schizophrenics and depressives.
"All of us up here really enjoy the Peoria State Hospital and what it stands for," Lawson said. "We are doing our best to save what history we can. But we've found that 'haunting' helps pay the bills–more than just 'history'," she said.
Tickets for the Old State Mine Haunted Trail are $15 a person. Tickets are available at the door – 4400 Industry Dr., Bartonville, Illinois – from 7 p.m. to midnight or online at www.oldstatemine.com.