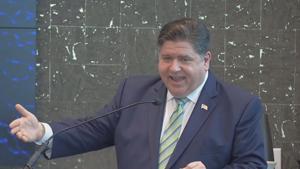 (The Center Square) – While President Joe Biden said he tried but failed to stop border wall funding, Gov. J.B. Pritzker says the wall set to be built is a sign to Republicans that it's time to come to the table on "comprehensive immigration reform."
The U.S. Department of Homeland Security on Thursday announced it is waiving 26 federal laws to finish completing a wall in the Rio Grande Valley. That is an area where the federal agency halted construction of a physical barrier over two years ago. DHS announced the change in the Federal Register after receiving pressure from Democratic elected officials.
Pritzker sent the White House a letter Monday saying the arrival of thousands of non-citizens to Chicago is overwhelming, uncoordinated and untenable. He asked for more resources. When asked Tuesday if the border was too open, Pritzker said border security is part of the overall need for "comprehensive immigration reform." 
Thursday, after the DHS announcement, Pritzker said Biden has always been focused on "border security but also having significant immigration in this country." 
"You've seen the projections that actually without immigration we'd have a declining population in the United States, which would also lead to a declining economy in the United States," Pritzker told reporters at an unrelated event in Chicago. 
The wall is just one aspect, he said. 
"It's not just a wall that provides border security, there are lots of other aspects to it and so making sure that we're enhancing all of those while also working for comprehensive immigration reform. Because he's not just doing this in isolation. He's also telling Republicans that 'if you want to come to the table, now is the time. We're willing to do this, if you're willing to do that."
After Pritzker's comments, separately at the White House Thursday, Biden was asked if the border wall works. He said "no." 
"Money was appropriated for the border wall," Biden said. "I tried to get them to reappropriate it, to redirect that money, they didn't, they wouldn't. And in the meantime, there's nothing under the law other than they have to use the money for what it was appropriated. I can't stop that."