In a Republican presidential nomination race that's dominated by former President Donald Trump, the former president's indictment and arraignment this week on charges he attempted to overturn his loss in the 2020 election will likely only increasingly eclipse efforts by his rivals to stand out and further cement his position as the commanding front-runner.
"In the short term, it helps Trump because it's going to galvanize his base, and it's going to take all of the oxygen out of the race for every other candidate and rather than talk about themselves," longtime New Hampshire based Republican consultant Jim Merrill told Fox News. "It will be inescapable."
Merrill, a veteran of numerous GOP presidential campaigns, emphasized that the blockbuster developments are "going to force them to talk about Donald Trump. And the longer that goes on, the harder it is for the other candidates to make a compelling case for their own campaigns."
TRUMP ARRAIGNMENT: FORMER PRESIDENT PLEADS NOT GUILTY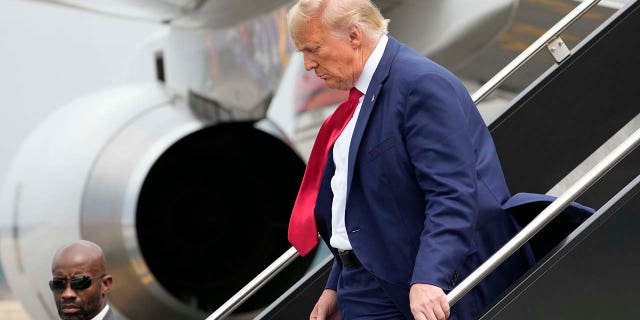 Trump's wasting no time in getting back on the campaign trail.
The former president on Friday evening headlines the Alabama GOP's summer meeting. And on Saturday he's in South Carolina – which holds the third contest in the Republican presidential nominating calendar – as he speaks at the state party's annual Silver Elephant fundraising gala. Both appearances were scheduled ahead of the former president's indictment on Tuesday. Next week, Trump heads to New Hampshire, which holds the first primary and votes second in the GOP nominating schedule.
Trump, who's making his third straight White House run, earlier this year became the first sitting or former president in U.S. history to be charged with a crime.
DIVERGENT REACTIONS: TRUMP'S 2024 GOP RIVALS SPLIT IN THEIR RESPONSES TO ARRAIGNMENT
The former president pleaded not guilty in early April in New York City to charges brought by the Manhattan District Attorney's Office. He was indicted for allegedly giving hush-money payments to adult film actress Stormy Daniels in 2016 to keep her quiet ahead of that year's presidential election over her claims she had sexual encounters years earlier with Trump. He denies sleeping with Daniels and denies falsifying business records to keep the payment concealed.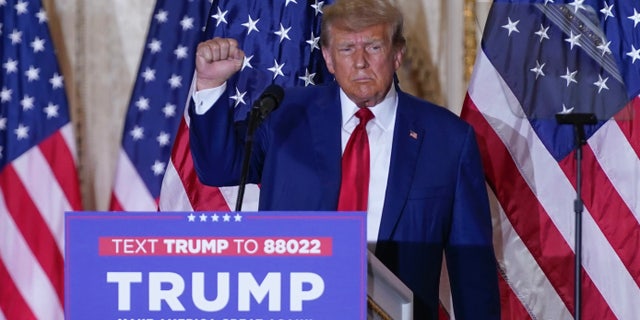 Trump was indicted and arraigned in early June for his alleged improper retention of classified records. He pleaded not guilty in federal court in Miami to criminal charges that he illegally retained national security records at his Mar-a-Lago estate in Palm Beach, Florida, following the end of his term as president and that he obstructed federal efforts to recover the documents.
On Thursday the former president pleaded not guilty to four counts: conspiracy to defraud the United States, conspiracy to obstruct an official proceeding, obstruction of official proceeding, and conspiracy against rights. 
Trump was informed two weeks ago that he was a target in the probe into his actions and state of mind on Jan. 6, 2021, and in the lead-up to that infamous day – when hundreds stormed the U.S. Capitol. The attack temporarily disrupted congressional certification of Biden's Electoral College victory over Trump.
The indictment alleges that Trump pursued unlawful means of discounting legitimate votes and subverting the 2020 presidential election results and that he corruptly obstructed and impeded the certification of the electoral vote.
IT'S TRUMP'S RACE TO LOSE 6 MONTHS AHEAD OF GOP PRIMARIES, CAUCUSES
Trump world is confident that the latest indictment will further energize his supporters. 
"It is absolutely true that, politically speaking, these indictments have been rocket fuel for his campaign," an adviser in Trump's political orbit told Fox News.
The adviser, who asked for anonymity to speak more freely, argued that "too many Washington insiders don't appreciate the extent to which Republican voters do not believe in the system. Republican voters believe our system of government is completely corrupt and corrupted against Republican. So, when Trump gets indicted and indicted multiple times, all it does is send a signal to Republican voters that Trump is the greatest the threat to the very corrupt establishment that they hate and don't believe."
Another source in Trump world suggested that the latest indictment fuels a potential general election rematch with Biden.
 "They've fast-tracked the general election, which has already started. While there are plenty of Republican candidates marching around the country, the adults in the room and the nominees of the respective parties have already started their general election campaigns," the source predicted.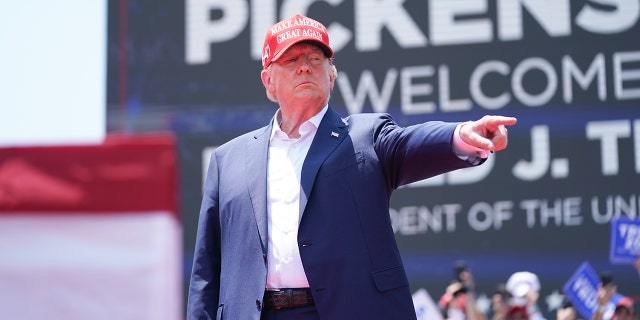 Ryan Williams, a Republican strategist, communicator and veteran of multiple presidential campaigns, told Fox News that the latest indictment "politically doesn't affect Donald Trump's support with Republican primary voters at all. If anything, it rallies support around him."
And pointing to Trump's rivals, Williams said that "there's no oxygen left in the room. The entire race is about Donald Trump, and as we've seen thus far, the more people talk about Donald Trump, the stronger his poll numbers get in the Republican primary. The focus on Trump and his circus has diminished other candidates."
But there are still five and a half months to go until Iowa and New Hampshire kick off the voting in the race for the GOP nomination. Merrill noted that while the Trump indictments "create challenges for the opposing campaigns, there's time … I think one thing we've learned over the last eight years is that anything can happen in these things."
And he emphasized that for Trump's rivals, the mission ahead is "to make that case that these indictments make it difficult if not impossible for Trump to beat Joe Biden."
Ryan pointed to another factor – money.
This week's indictment came amid headlines that Trump's political committees were spending more money so far this year than they were raising, with millions in expenditures going to his legal bills.
CLICK HERE TO GET THE FOX NEWS APP
"Increasing legal costs that will drain his campaign bank account," Williams noted. "Preparing for trial and going to trial will result in larger legal bills that will essentially render his campaign as a legal defense fund."
And he suggested that "at a time when Joe Biden and Democrats will be stockpiling resources to run hundreds of millions of dollars of ads against Trump, he'll be forced to take his resources to pay lawyers."