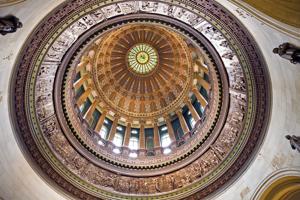 Mt. Vernon man dies in helicopter crash
Authorities have identified the pilot who lost his life in a southern Illinois helicopter crash. Donald Pruett, 41, of Mt. Vernon, was pronounced dead at the scene Monday in Washington County. Illinois State Police said the helicopter possibly hit some power lines, causing it to lose control and crash into a cornfield. No other occupants were inside the helicopter. Pruett was an employee of Air Evac 11.
Woman faces charges after bank robbery
A woman is facing armed robbery charges after police said she attempted to hold up a Bank of America branch in Kildeer. According to police, officers responded to a call of an "armed robbery in progress" Monday at the bank. It was reported that Tina Lambert, who was wearing a white face covering, told a bank employee that she had a gun, and to put the money in a duffle bag. She was located nearby and officers said they found about $20,000 in cash inside the duffle bag. Lambert faces charges of armed robbery, burglary and felony theft.
Illinois State Police introduce new system for reporting crashes
Illinois State Police are introducing an online crash reporting system in an effort to reduce wait times. The new system, called the Civilian Crash Reporting System, will allow a motorist to create a crash report online without having to wait roadside for a trooper to arrive. State police say this will increase public safety as they can file their report from a safer location than the side of the road and it allows troopers to respond to higher priority calls.