White House press secretary Karine Jean-Pierre ripped Democratic presidential candidate Robert F. Kennedy, Jr. on Monday, referring to his comments concerning COVID-19 being genetically engineered to spare Jewish and Chinese people as "vile," and "an attack on our fellow citizens."
"The claims made on that tape is false. It is vile. And they put our they put our fellow Americans in danger," Jean-Pierre told a reporter who asked during the daily White House press briefing if Kennedy's comments had any place in the Democratic Party. 
"If you think about the racist and anti-Semitic conspiracy theories that come out of saying those types of things, it's an attack on our fellow citizens, our fellow Americans. And so it is important that we essentially speak out when we hear those claims made more broadly," she said.
RFK JR. SHRUGS OFF BIDEN FAMILY CORRUPTION ALLEGATIONS: WON'T BE A 'SMEAR TIP TO MY CAMPAIGN'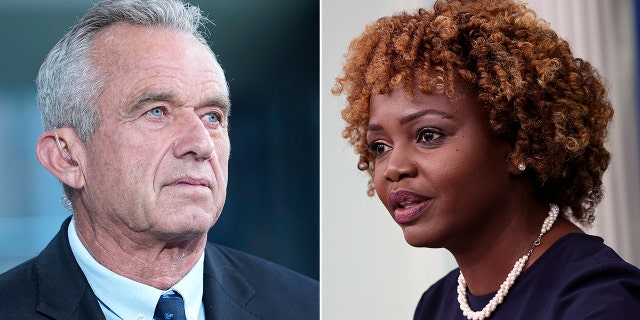 Kennedy's remarks, made during a New York City dinner last week and first reported by The New York Post, included the presidential candidate saying he didn't know whether the virus was "deliberately targeted or not," but that there were "papers out there that show the racial or ethnic differential and impact" on different groups.
"There is an argument that it is ethnically targeted. COVID-19 attacks certain races disproportionately," he said. "COVID-19 is targeted to attack Caucasians and black people. The people who are most immune are Ashkenazi Jews and Chinese."
Jean-Pierre said it was "important" to acknowledge the loss of loved ones many Americans across the country faced as a result of the pandemic, and went on to quote the American Jewish Committee, who she said called the assertion that COVID was engineered to spare Jewish and Chinese people was "deeply offensive and incredibly dangerous."
ROBERT F. KENNEDY, JR. PRESS DINNER DEVOLVES INTO 'SCREAMING AND POLEMIC FARTING': NY POST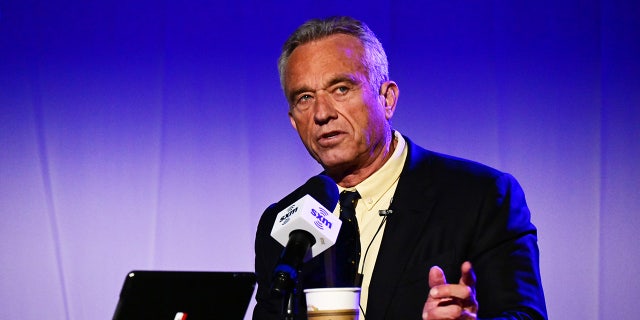 "Every aspect of these comments reflects some of the most abhorrent anti-Semitic conspiracy theories throughout history and contributes to today's dangerous rise of anti-Semitism. And so this is something that, you know, this president and this whole administration is going to stand against," she said.
"When you hear that type of false those false claims against Asian-Americans, against Jewish Americans, we're going to continue to speak out. And we believe … it's important to protect the dignity of our fellow Americans. It's important to respect our fellow Americans," she added.
According to The Post, Kennedy also claimed the Chinese "are spending hundreds of millions of dollars developing ethnic bioweapons," and that the U.S. was also "developing ethnic bioweapons."
WHITE HOUSE ADVISOR POUNDS PODIUM DEFENDING 'FOUNDATIONAL, SACRED OBLIGATION' TO FUND MILITARY ABORTIONS
Kennedy lashed out at the Post on social media, calling the story "mistaken," and linking to a study detailing the different effects COVID-19 had on people of different races.
"The [New York Post] story is mistaken. I have never, ever suggested that the COVID-19 virus was targeted to spare Jews," Kennedy wrote. 
"I accurately pointed out — during an off-the-record conversation — that the U.S. and other governments are developing ethnically targeted bioweapons and that a 2021 study of the COVID-19 virus shows that COVID-19 appears to disproportionately affect certain races since the furin cleave docking site is most compatible with Blacks and Caucasians and least compatible with ethnic Chinese, Finns, and Ashkenazi Jews," he wrote.
"In that sense, it serves as a kind of proof of concept for ethnically targeted bioweapons. I do not believe and never implied that the ethnic effect was deliberately engineered," he added.
CLICK HERE TO GET THE FOX NEWS APP
Kennedy's campaign did not immediately respond to Fox News Digital's request for comment.