The homeless crisis devastating Los Angeles appears to be only worsening as Mayor Karen Bass signed an updated emergency declaration giving her more extensive authority to tackle what she described as an "issue of life and death."
Bass, a Democrat, last week signed an updated declaration of a state of emergency on homelessness, giving her additional powers to expedite the process of building more housing, call for the emergency service of city employees, and coordinate citywide planning to respond to the homeless crisis.
"It's no secret that Los Angeles is facing an emergency when it comes to homelessness," Bass said in a statement, "This is an issue of life and death for the thousands of people who are living in tents and cars. That's why I signed an updated declaration of emergency and have continued to lock arms with the City Council to maintain our momentum toward confronting homelessness and building more affordable housing."
Bass, who initially signed an emergency declaration on homelessness just six months ago on her first day in office, added that the city has made progress in building housing and bringing city residents inside. However, she didn't hold back in portraying the situation as dire during a press briefing at City Hall.
LA BUSINESS OWNER FED UP AS CITY REPEATEDLY TARGETS STORE'S SIDEWALK SIGN INSTEAD OF HOMELESS CAMPS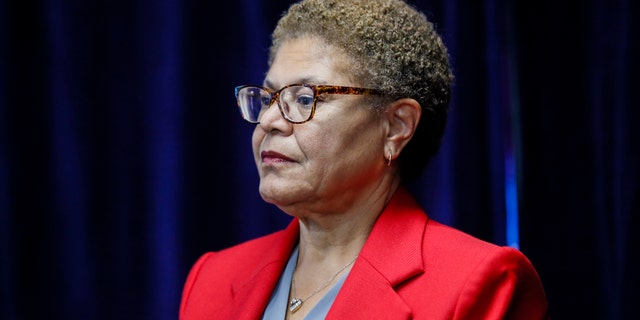 "We are in an emergency every single night," said Bass, who noted that not only are thousands of Los Angelenos sleeping on city streets or in their cars but also that up to five are "dying on our streets each night."
Bass' comments and updated emergency declaration came two weeks after newly released data showed homelessness in Los Angeles County has increased by 9% and by another 10% in the city of Los Angeles, despite millions of dollars made in investments to house those living on the streets.
Overall, California has by far the most homeless people of any state. On a single night last year, 30% of all individuals experiencing homelessness in the country, or 171,521 people, were in California, according to data from the Department of Housing and Urban Development (HUD). The state with the second-highest number of homeless was New York at just 13% of the country's total, or 74,178 people.
The HUD data also showed the Golden State accounted for half of all unsheltered individuals in the country, or 115,491 people, which was more than nine times the number of unsheltered people in the state with the next highest number, Washington.
California additionally had the highest rate of homelessness, with 44 people experiencing homelessness out of every 10,000 people in the state. According to the HUD data, Texas and Florida had a high total number of homeless people, but their rates of homelessness were lower than the national average of 18 people per 10,000 (12 for every 10,000 people in Florida and 8 for every 10,000 people in Texas).
CITY OF LOS ANGELES HOMELESS POPULATION INCREASED BY 10% DESPITE MILLIONS SPENT TO ADDRESS ISSUE, FIGURES SHOW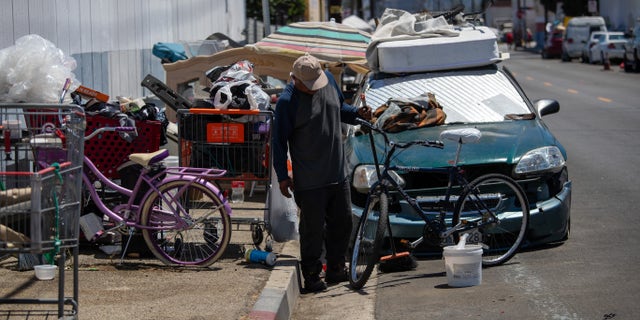 CalMatters noted in a recent report that while the Lone Star State has recorded a 28% drop in homelessness since 2012, California's homeless population grew by 43% over the same period. Los Angeles has been the hub of this surge in homelessness.
LA has seen a growing number of homeless encampments popping up along the streets of the city, coinciding with rising crime rates and creating scenes of trash, needles, and even human feces and urine in public areas. Many business owners have complained, expressing outrage about such encampments being close to their establishments and potentially driving away customers.
In order to combat this spike in homelessness, Bass has created an LA homeless program called Inside Safe, which involves outreach workers moving from encampment to encampment, offering those at each targeted camp a hotel room. The goal is to move everyone quickly from the hotel into permanent housing.
Supporters say the plan gets people off the streets, prevents encampments from becoming too large and sprawling, and makes it easier to find people housing compared to those still living in tents.
However, few people have actually moved from hotels into permanent housing, and the city is reportedly struggling to produce data on the program's effectiveness. It's also been a struggle to provide the homeless with access to mental and physical health care. Perhaps most importantly, critics argue Inside Safe is too expensive to continue for the long term, posing a question of what will happen when funding runs out.
The issue of housing the homeless in LA hotels has been especially contentious. Next year, city residents will vote on a controversial ballot measure that would require hotels in LA to rent vacant rooms to homeless people.
LA CITY COUNCILMAN SAYS 'KIDS ARE AFRAID TO WALK TO SCHOOL' DUE TO NEEDLES, HUMAN WASTE, PSYCHOTIC BEHAVIOR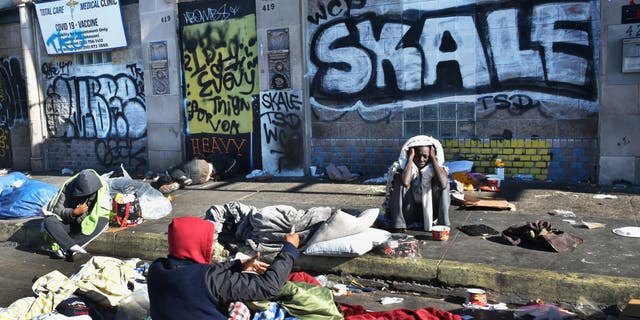 Specifically, the proposal would require hotels to regularly report the number of vacant rooms they have to the city's housing department. The department would run a program under which it could essentially assign homeless people to a particular hotel, with the "guests" paying for the room with a voucher paid for by the city at a "fair market rate." Hotels would be prohibited from discriminating against homeless people who participate in the program.
Unite Here Local 11, a labor union representing hotel and other hospitality workers, led the effort in support of the measure, getting it in front of the LA City Council for a vote last year to put it on the 2024 ballot.
The union has also been spearheading ongoing strikes by LA hotel workers, who are demanding higher wages, guaranteed staffing levels, automatic digital tipping, and the continuation of their strong health insurance plan and pension program.
However, Coordinated Bargaining Group, which represents dozens of LA-area hotels negotiating with Local 11, filed charges earlier this month with the National Labor Relations Board accusing the union of breaking the law by going on strike over demands that have "nothing to do" with the employees it represents and that could harm the city's tourism industry.
CALIFORNIA HOMELESS MAKE UP NEARLY ONE-THIRD OF US HOMELESS POPULATION, NEW REPORT SHOWS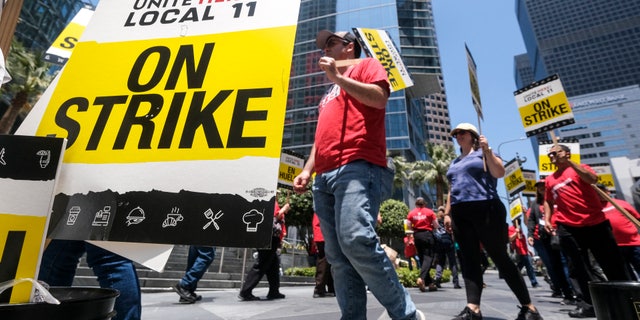 Among the group's complaints is Local 11's support for the measure to require hotels to house the homeless, as well as a 7% tax on hotel guests in order to create a fund that would assist hospitality workers in obtaining affordable housing.
"Insisting that these provisions must be in any contract settlement and striking to include them is not only unlawful, but it is also a real obstacle to reaching agreement on a contract," Keith Grossman, spokesperson for the Coordinated Bargaining Group, said in a statement. "If the union really wanted an agreement to help the employees, it would have dropped these issues long ago instead of taking employees out on strike over them."
Kurt Petersen, co-president of Local 11, said that the union stands by its 7% tax demand and that the Coordinated Bargaining Group mischaracterized the ballot measure, which he said is about building affordable housing.
CLICK HERE TO GET THE FOX NEWS APP
"I'm not sure what they are arguing, because we are allowed to bargain over anything we want at the table," he told the Los Angeles Times. "They should stop paying their lawyers … to file frivolous complaints and instead pay their workers a living wage."