Sens. Dan Sullivan, R-Alaska, and Tammy Duckworth, D-Ill., agreed Sunday that the expansion of NATO into Asia only a matter of time amid the alliance's growing concern about China. 
During appearances on NBC's "Meet the Press" on Sunday, host Chuck Todd asked each senator, who described one another as close friends, whether they thought NATO expansion into Asia was "inevitable" over the next one to two decades. 
"Oh, I think it is. And I think it was a positive summit. I think there was a lot of progress," Sullivan, a member of the Senate Armed Services Committee and a military veteran who attended the NATO summit in Vilnius, Lithuania, himself, responded. 
Todd noted that the number of times China was mentioned in the NATO communique jumped from just once last year in Madrid, Spain, to over a dozen times this year in Lithuania. 
AS CHINA THREAT GROWS IN ASIA, JAPAN TO OPEN NATO LIAISON OFFICE TO COUNTER BEIJING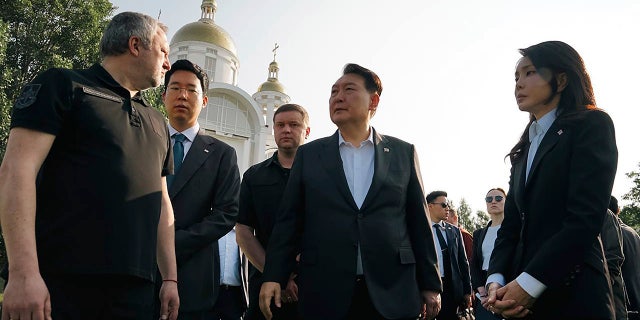 "It wasn't just the mention of China, several times, almost 20 times on my count. But, Chuck, you probably saw the leaders who were there. It was the prime minister of Japan, prime minister of Australia, the president of Korea. Our Senate delegation had the opportunity to meet with those leaders, and I think that was a really strong signal with regard to NATO," Sullivan said. 
The senator said the big message he reiterated to all leaders during the NATO summit and spoke about with President Biden and National Security Adviser Jake Sullivan is that all members of the alliance must meet the 2% of their GDP obligation for defense. He praised the newly inducted Sweden for meeting that commitment at the get-go, but slammed other NATO members as "laggards," specifically saying it was "unacceptable" for Canada to be contributing barely above 1%. 
"One of the critical issues that we have to keep pushing with regard to NATO is to get the rest of our allies to step up and do their part," he added. "You know, we want this alliance, which is one of the most successful military alliances in history, to be strong, to be sustainable. But it's undermined the sustainability of NATO when only seven of 31 members of NATO currently meet their 2% of GDP obligation for defense spending. That in my view has the potential to undermine even support for Ukraine in the near term and, longer term, the support for NATO."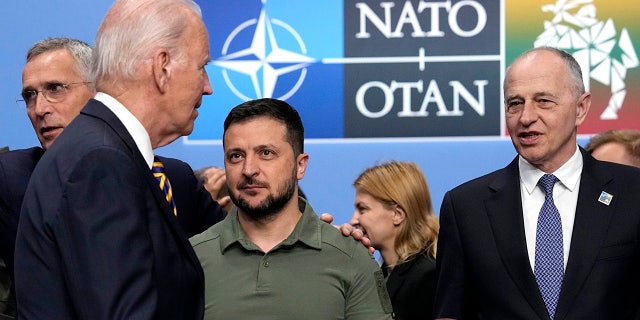 Asked the same question on NATO's expansion into Asia, Duckworth said, "I think it is. I agree with my friend. And frankly, you know, it already has started to do that with our successful AUKUS agreement between the U.K., Australia, and the United States."
"Our Asian allies, I will tell you," she continued, "I travel extensively throughout the Indo-Pacific, and our Asian allies are looking very closely to what has happened with Ukraine and realize that there is a greater need to participate themselves in NATO, as well as NATO allies coming back into the Indo-Pacific region."
"I think what Vladimir Putin has done is not only has he expanded NATO, he's actually strengthened the resolve of countries like Japan and Korea and Taiwan and other nations," Duckworth added. "I mean, even the ASEAN nations put out a statement condemning Russia's actions in Ukraine. So he's in fact united the world, in a way, against what he's doing there."
NATO CALLS FOR JAPAN, OTHER DEMOCRACIES TO DEFEND AGAINST CHINA'S THREAT ON INTERNATIONAL ORDER
Todd pressed both Sullivan and Duckworth to react the blockade spearheaded by Sen. Tommy Tuberville, R-Ala., who is holding back hundreds of military nominations and promotions in a bid to force the Pentagon to change its policy on using taxpayer dollars to fund abortions and travel reimbursements for military members to get abortions.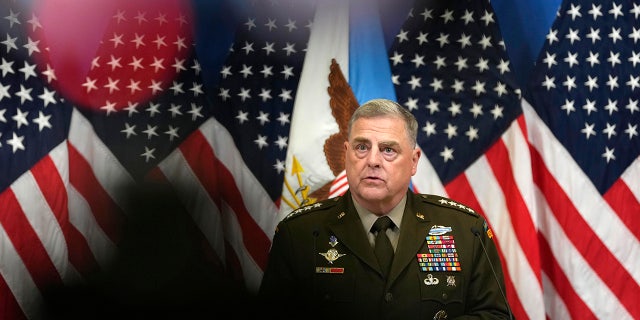 Rejecting criticism that Tuberville's effort posed a national security risk, Sullivan argued, "The biggest national security issue from my perspective, Chuck, is the Biden administration is continuing to put forward defense budget cuts during what everybody – and the president agrees with this, so does the security of defense – thinks is the most dangerous time since World War II, right? The budget for next year's going to take us below 3% of GDP spending. That's the lowest level in almost 70 years."
CLICK HERE TO GET THE FOX NEWS APP
Duckworth, by contrast, condemned Tuberville, categorizing that for him "to really jeopardize our national security by injecting politics and preventing our military leaders from being able to take their positions and do their jobs, is really, you know, it's beyond distressing."