President Biden appeared to nibble at the shoulder of a startled little girl during his departure from Helsinki, Finland, on Thursday. 
A video of the incident, which took place as the president greeted embassy staff members and their families before he boarded Air Force One at Helsinki-Vantaan International Airport, shows Biden leaning into a young girl and placing his mouth on her shoulder as he nibbled lightly.
The little girl – who appeared frightened during the experience – later turned her head when Biden, who will turn 81 this November, tried to give her a peck on the head.
Footage from the incident quickly made rounds on social media, where several users blasted the president for his peculiar conduct.
WATCH: 
WATCH: BIDEN CONFUSES UKRAINE WITH RUSSIA, ZELENSKYY WITH PUTIN DURING GAFFE-FILLED TRIP TO LITHUANIA
"This has got to be Biden's creepiest moment yet with a child," Caleb Hull, a conservative operative, said of the footage. "All Biden has to do is not do this and he can't," he added in a separate tweet.
Republican operative Greg Price joked that Biden is "now confusing babies with ice cream cones." 
"Biden is creepy AF. Why would anyone put their mouth on another person's child like this? This is peak, disgusting pedo behavior," political comedian Tim Young noted in a tweet.
"Keep your kids away from Joe Biden. Gross," Young added in a video about the incident.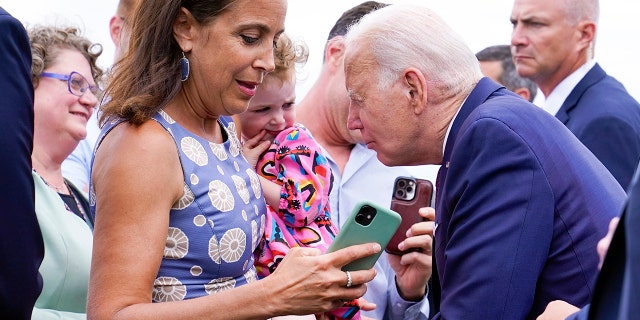 "Biden pretended to bite the back of this little girl today in Finland," another person wrote in a tweet. "She was, clearly, scared and not amused."
The eyebrow-raising behavior from the president came as he  concluded a five-day trip to Europe – where he participated in a Lithuanian summit to shore up support for Ukraine amid its war with Russia and showcase Finland's NATO membership.
BIDEN TANGLES WITH REPORTER WHO QUESTIONS US COMMITMENT TO NATO: 'NO ONE CAN GUARANTEE THE FUTURE'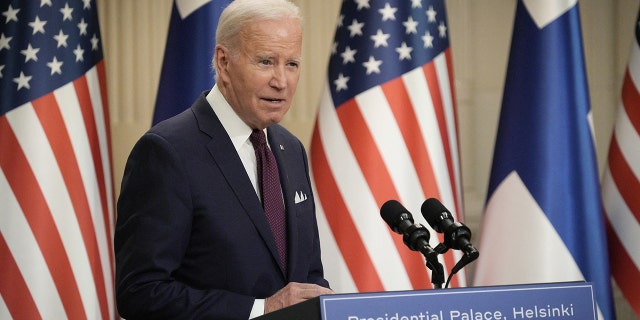 During the trip, Biden committed multiple speaking gaffes, which included confusing Russia and Ukraine, as well as their leaders.
While speaking to the NATO summit in Vilnius, Lithuania on Wednesday Biden referred to Ukrainian President Volodymyr Zelenskyy as "Vladmir," seemingly confusing Zelenskyy with Russian President Vladmir Putin.
Appearing to not realize his mistake, Biden went on to say he "shouldn't be so familiar," and referred to Zelenskyy as "Mr. Zelenskyy."
Putin and Zelenskyy each hold a different version of the same name, with "Volodymyr" being the most commonly used version in Ukraine.
At a later speaking event following the summit, Biden confused the two nations, referring to Ukraine as Russia.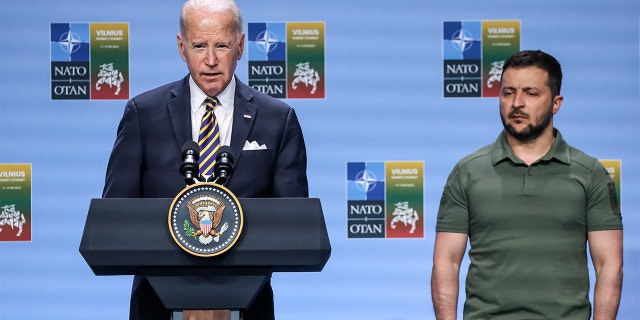 "Russia could end this war tomorrow by withdrawing its forces from Ukraine and recognizing its international borders and ceasing its attacks – its inhumane attacks – on Russia – I mean by Russia on Ukraine," Biden said, correcting himself.
CLICK HERE TO GET THE FOX NEWS APP
The gaffes are just the latest in a string of near-constant fumbles by Biden, including last month when he told reporters Putin was "clearly losing the war in Iraq."
Fox News' Brandon Gillespie contributed to this article.