A new ad campaign launched by a government watchdog is targeting Democrats' opposition to increased school choice as akin to segregation.
According to the Committee to Unleash Prosperity, the new ad, titled, "Education Fairness for All," is part of a combined digital and tv campaign, and compares a number of modern Democratic politicians to the late-former Democratic Alabama Gov. George Wallace, who famously opposed the integration of schools in the 1960s, and coined the phrase, "Segregation now, segregation tomorrow, and segregation forever."
"In 1963, Alabama Governor George Wallace stood in the schoolhouse door to keep Black children out of the best schools. In 2023, a new generation of George Wallace Democrats is again blocking schoolhouse doors, opposing popular school choice programs," the ad says. 
US SEEING AN 'ACROSS-THE-BOARD HUMAN CAPITAL CRISIS' NOT SEEN IN DECADES, BUDGET WATCHDOG SAYS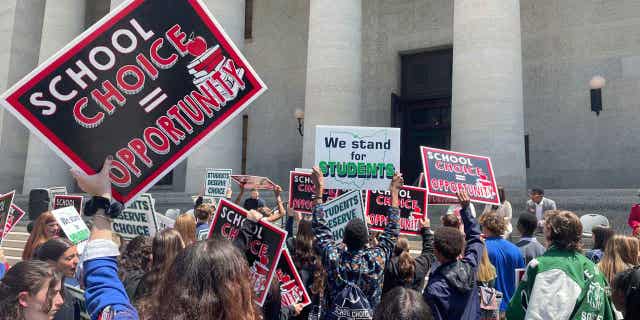 "In states like New York, Arizona, Illinois, Nevada, North Carolina and Texas, Democrats are fighting programs that give Black and Hispanic parents the ability to send their kids to the best possible schools. Yet, many of these same politicians send their own kids to private schools. It's time for every child in America to finally have equal access to good schools," it adds.
The goal, the group says, is to hold Democrats accountable for their actions on schools, which it says is the "civil rights issue of our time," and to prevent any child from being stuck in a failing school system. The party has largely opposed efforts across the country to invest in private and religious schools as an alternative to poorly performing public schools, something that proponents argue benefits the nation's poorest communities.
Economist Steve Moore, a co-founder of the group, questioned why Democrats would want to actively prevent students from reaching future success through educational opportunities.
BIDEN REGULATIONS HAVE COST AMERICANS ALMOST $10,000 PER HOUSEHOLD: STUDY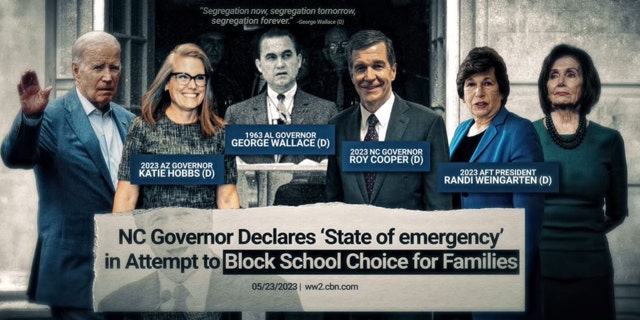 "Democrats across the country are prioritizing the teacher's union over the rights of children," he said in a statement. "A quality education is a proven pathway to a better life and every child deserves a quality education. I cannot imagine why Democrats would want to rob children of that advantage."
"Parents across the country deserve to have the best choice when it comes to their kids' education. Democrats' political motivation to reward their union backers by dismantling school choice is reprehensible. Parents deserve to be in charge of their children's education, not politicians and especially not unelected union bosses," he added.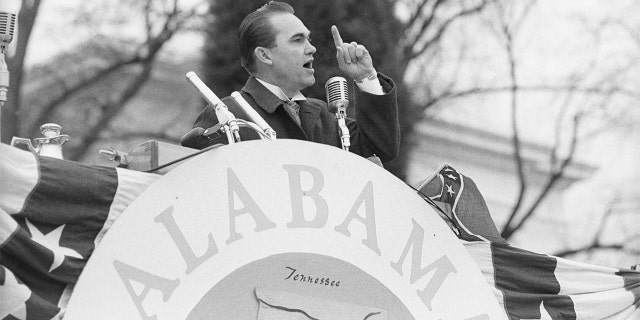 CLICK HERE TO GET THE FOX NEWS APP
The $250,000 campaign will begin airing in the Washington, D.C. media market, and will expand to future states where it says Democratic governors are rolling back school choice options. The future ads will be state specific.