The New York Times is calling into question a story from New York City Mayor Eric Adams that he has carried a photo of a fallen officer in his wallet for decades.
Since taking office last year, Adams has repeated an anecdote about fallen police colleague and friend Robert Venable, who was fatally shot in 1987. The mayor told the media during his first month in office last year that he "still thinks about Robert" and has kept the officer's photo in his wallet. 
Adams is a former transit officer who rose through the ranks of the NYPD to captain before he was elected Brooklyn Borough president and then mayor of the city in 2021. 
A report published Thursday by the Times, however, cast doubt on the mayor's story, reporting that the photo "had not actually spent decades in the mayor's wallet."
NYC MAYOR ADAMS SLAMS NY TIMES REPORT ON HIS LAVISH, PERHAPS UNETHICAL, PARTY LIFESTYLE: 'SILLY, SILLY STORY'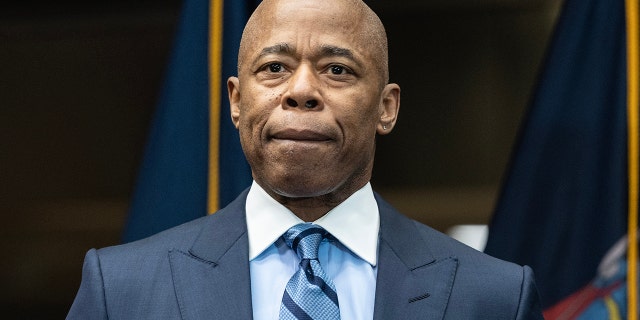 Just days after Adams first publicly mentioned the fallen officer last year, City Hall employees were reportedly instructed to recreate a worn-looking photo of Venable, a person familiar with the request told the newspaper. An employee reportedly printed a black-and-white photo of the officer off of Google and spilled coffee on it to make it look as aged as possible.  
Two unidentified former City Hall aides confirmed to the outlet they were informed about the altered photo last year, according to the Times.
The mayor additionally posed for the camera last year while holding the photo after a Times reporter requested to see the image. 
NYC MAYOR ADAMS ROASTED FOR 'MINDFUL BREATHING' MANDATE AMID POOR LEARNING SCORES, CRIME: 'PET PROJECT'
Adams' press secretary Fabien Levy has slammed the report as a "campaign to paint the mayor as a liar.
"The Times' efforts to attack the mayor here would be laughable if it were not so utterly offensive," he said in a statement this week.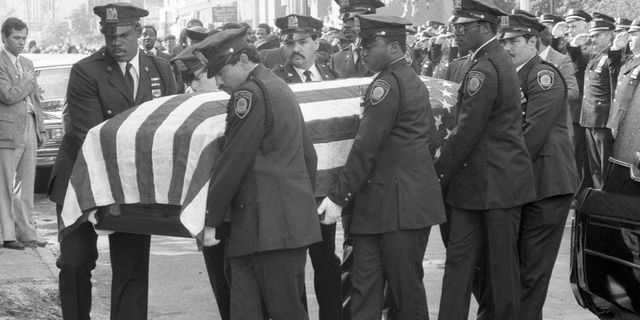 Levy directed Fox News Digital on Thursday to his office's full response to the report, which highlighted that "multiple members of Officer Venable's family today came out to criticize The New York Times' effort to create a divide between Mayor Adams and the Venable family." The family members cited in the city's response include Venable's sister and niece as well as his daughter, Januari Venable, who was 8 years old when her dad died.
NY MAYOR ERIC ADAMS PRAISED FOR REVEALING UNCOMFORTABLE THEORY ABOUT DEMOCRATIC PARTY, WOKEISM AND MINORITIES
"I don't remember most of the people who were there for my family, but in the 36 years since I lost my father, Eric Adams has been there, even after the cameras were gone," Januari Venable, said. "Eric personally drove me and my family to Fourth of July fireworks in the past, and when I called him last minute to attend a memorial for my father, the mayor was there.
"When the mayor met my son at that very memorial, he immediately recognized my dad's smile. Like I told the Times, if the mayor can do some good by using my father's story to get more guns off the street, I am happy for him to do so," she added in her statement provided in the city press release.
The Times, however, reported that Januari Venable "said that she did not recall ever meeting Mr. Adams until this year" and was surprised to learn this past spring he carried a photo of her dad.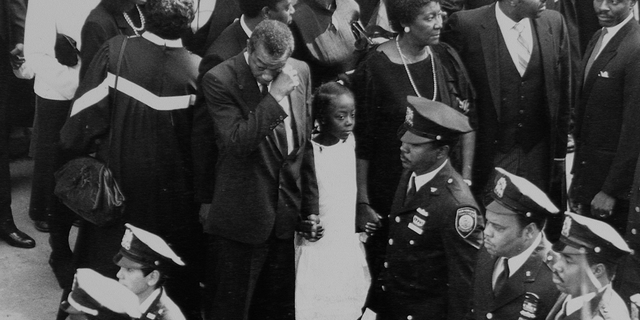 Meredith Benson, Venable's niece, took to Twitter on Thursday to say she was "appalled & furious" with the New York Times over the coverage. 
"They should apologize to my family for making us relive this trauma," she tweeted. "Robert Venable was a victim of gun violence & I applaud the Mayor 4 honoring their friendship by calling attention to its impact."
Levy said in a statement that Adams and Venable, along with other officers in the late 1980s, "were close friends before Officer Venable's murder, and any implication otherwise is patently false."
ELDERLY WOMAN NYC MAYOR ADAMS COMPARED TO PLANTATION OWNER ESCAPED NAZI REGIME WITH FAMILY: REPORT
"Countless members of the Police Department can verify their friendship that started as two officers who were coming up in the force together, at a time when few Black leaders had positions of power in the Police Department," Levy said.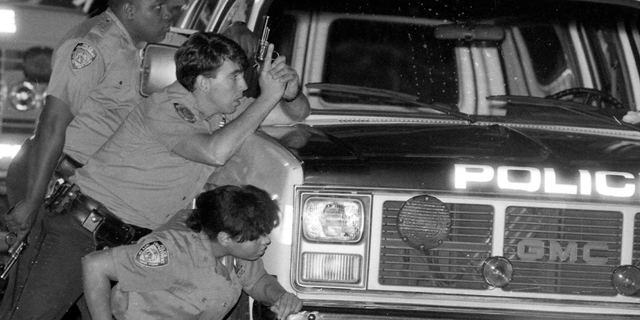 The Times did report that five officers who rose in the NYPD ranks around the same time as Adams and Venable said the pair were friends. 
"There weren't many young Black officers," former officer Randolph Blenman told the outlet. "Those of us who came on after the fiscal crisis of the 1970s – we basically stuck together."
A spokesperson for the New York Times told Fox News Digital on Thursday that the mayor's office has not denied the crux of the story. 
"The mayor and his office don't deny the story's main point: that the photo he showed to reporters and claimed to have carried for decades was made by aides, who took steps to age its appearance," spokesperson Brian Latu said. 
Adams more recently publicly discussed Venable twice in April of last year, and also showed the photo at a Police Academy ceremony last June.
CLICK HERE TO GET THE FOX NEWS APP
"I understand the pain," Adams told News 12 at the time, according to the New York Post. "I carry around a picture of Robert Venable, my close friend, that was shot several years ago during my early days of police, and I always have Robert's picture. The pain never dissipates."