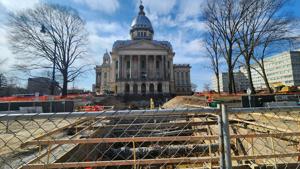 (The Center Square) – Trench collapse is one of the top causes of death in the construction industry. With the Illinois Department of Labor highlighting safety this month, it's asking everyone to use caution and undergo training to prevent deaths. 
On any given day across Illinois, there are countless street and highway projects and utility construction sites with open active trenches where crews are working. 
"I cannot fathom how many there are," said Harry Hileman, marketing and outreach coordinator for the Illinois Department of Labor. 
Any time workers dig a hole, there is the potential for a deadly collapse, he said. Thirty-nine workers in the United States were killed in trench collapses last year, double the average number of yearly deaths for trench accidents in previous years.
The Occupational Safety and Health Administration's message to work crews is to slow down and put in the hours beforehand to prevent a potential collapse. 
"Without the proper shoring, a worker is depending on the earth next to them not to collapse," Hileman said. 
Workers in trenches are often in a rush to restore services for people, Hileman said. All of us depend on them. 
"Yes, the customers may be without water for a day. Yes, it will cost the contractor more money. But let's do it right," he said.
To prevent cave-ins, Illinois law requires that there be a person on site who is in charge. That person should know what "right" looks like, Hileman said. 
Every trench should have a safe way to enter and exit. The edges of the trench should be kept clear. Standing water or other atmospheric signs are warnings that need to be taken seriously.
Last year, Hileman was called to a death inspection on a highway project that had an 8-foot deep,12-foot wide trench. When a wall collapsed, one worker was crushed and smothered under the weight of the soil. Another man sustained serious injuries when he was trapped in the cave-in. 
"Their buddies were distraught. They went to school with these guys and now one of them is dead in a ditch," Hileman said.
For more safety information, visit OSHA's website.
Workers can contact OSHA and file an anonymous safety complaint, Hileman said. In Illinois, whistleblower complaints are not anonymous, but Illinois law provides both state and federal whistleblower protection, Hileman said.
"Bringing up safety concerns is a protected activity in the state of Illinois," Hileman said. "We can protect them."
Small- and medium-sized businesses can get free and confidential hazard mitigation expertise from the OSHA's On-Site Safety and Health Consultation Program. For questions, call 800-972- 4216, or send an email to dol.consultation@illinois.gov.