Supreme Court Justice Clarence Thomas dismantled his colleague Justice Ketanji Brown Jackson's "race-infused world view" as part of the Supreme Court's decision Thursday to outlaw race considerations – also known as affirmative action – in the college admissions process.
Thomas, the second black justice to sit on the bench, sided with the 6-3 majority ruling Thursday saying the court's decision "sees the universities' admissions policies for what they are: rudderless, race-based preferences designed to ensure a particular racial mix in their entering classes."
Thomas said that "Justice Jackson's race-infused world view falls flat at each step."
"Individuals are the sum of their unique experiences, challenges, and accomplishments. What matters is not the barriers they face, but how they choose to confront them. And their race is not to blame for everything—good or bad—that happens in their live," he said.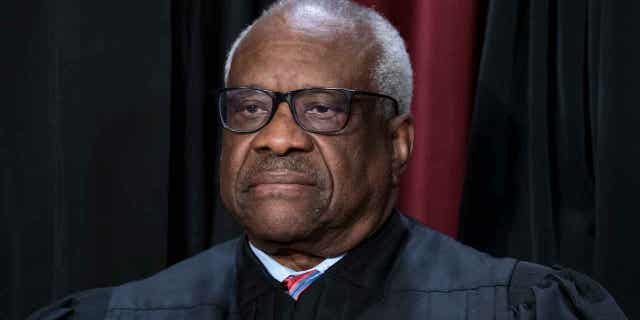 Thomas wrote a concurring opinion "to offer an originalist defense of the colorblind Constitution" and to "clarify that all forms of discrimination based on race—including so-called affirmative action—are prohibited under the Constitution; and to emphasize the pernicious effects of all such discrimination."
In doing so, Thomas slammed Justice Ketanji Brown Jackson's dissent in which she called the ruling a "truly a tragedy for us all" with "ostrich-like" logic. 
SUPREME COURT REJECTS AFFIRMATIVE ACTION IN RULING ON UNIVERSITIES USING RACE IN ADMISSIONS DECISIONS
"Though Justice Jackson seems to think that her race-based theory can somehow benefit everyone, it is an immutable fact that 'every time the government uses racial criteria to 'bring the races together,' someone gets excluded, and the person excluded suffers an injury solely because of his or her race,'" Thomas wrote. 
"Justice Jackson seems to have no response—no explanation at all—for the people who will shoulder that burden. How, for example, would Justice Jackson explain the need for race-based preferences to the Chinese student who has worked hard his whole life, only to be denied college admission in part because of his skin color?" Thomas questioned.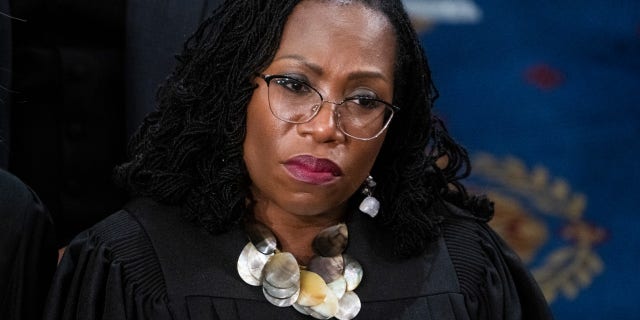 HARVARD REACTS TO SUPREME COURT AFFIRMATIVE ACTION RULING: DIVERSITY IS 'ESSENTIAL TO ACADEMIC EXCELLENCE'
"With the passage of the Fourteenth Amendment, the people of our Nation proclaimed that the law may not sort citizens based on race. It is this principle that the Framers of the Fourteenth Amendment adopted in the wake of the Civil War to fulfill the promise of equality under the law," Thomas wrote. 
And it is this principle that has guaranteed a Nation of equal citizens the privileges or immunities of citizenship and the equal protection of the laws. To now dismiss it as 'two-dimensional flatness,' is to abdicate a sacred trust to ensure that our 'honored dead . . . shall not have died in vain,' Thomas said, quoting Justice Jackson and a portion from President Abraham Lincoln's Gettysburg Address.
READ THE SUPREME COURT AFFIRMATIVE ACTION OPINION – APP USERS, CLICK HERE:
"Yet, Justice Jackson would replace the second Founders' vision with an organizing principle based on race. In fact, on her view, almost all of life's outcomes may be unhesitatingly ascribed to race," he continued.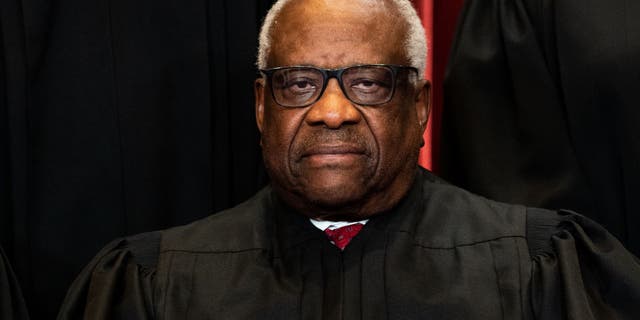 SUPREME COURT JUSTICES THOMAS, SOTOMAYOR READ AFFIRMATIVE ACTION OPINIONS FROM THE BENCH IN RARE MOVE
"Even in the segregated South where I grew up, individuals were not the sum of their skin color. Then as now, not all disparities are based on race; not all people are racist; and not all differences between individuals are ascribable to race. Put simply, 'the fate of abstract categories of wealth statistics is not the same as the fate of a given set of flesh-and-blood human beings," Thomas said.
"Worse still, Justice Jackson uses her broad observations about statistical relationships between race and select measures of health, wealth, and well-being to label all blacks as victims. Her desire to do so is unfathomable to me. I cannot deny the great accomplishments of black Americans, including those who succeeded despite long odds," Thomas scolded. 
"A contrary, myopic world view based on individuals' skin color to the total exclusion of their personal choices is nothing short of racial determinism," Thomas said.
"While I am painfully aware of the social and economic ravages which have befallen my race and all who suffer discrimination, I hold out enduring hope that this country will live up to its principles so clearly enunciated in the Declaration of Independence and the Constitution of the United States: that all men are created equal, are equal citizens, and must be treated equally before the law," Thomas wrote. 
The court's landmark decision stemmed from lawsuits against two of the country's most prestigious private and public universities: Harvard University and the University of North Carolina. 
Both schools claimed that their admissions standards have a larger societal goal, one endorsed for decades by the courts: to promote a robust, intellectually diverse campus for future leaders.
But a student group of Asian Americans sued the schools, saying that their admissions criteria discriminated with a "racial penalty," holding them to a selectively higher standard than many Black and Hispanic students."
CLICK HERE TO GET THE FOX NEWS APP
In a 6-3 decision, the court rejected the arguments of the universities and said the use of race as a factor in college admissions is a violation of the 14th Amendment's Equal Protection Clause.
Chief Justice John Roberts wrote in the majority opinion that both admissions programs at Harvard and the University of North Carolina "lack sufficiently focused and measurable objectives warranting the use of race, unavoidably employ race in a negative man­ner, involve racial stereotyping, and lack meaningful end points."
"We have never permitted admissions programs to work in that way, and we will not do so today," he said.