Republican presidential candidate Francis Suarez appeared to admit during a Tuesday morning radio interview about national security that he does not know what a Uyghur is.
The admission from Suarez came during an appearance on The Hugh Hewitt Show, where Hewitt asked Suarez, "Will you be talking about the Uyghurs in your campaign?"
"The what," Suarez, the current mayor of Miami, responded.
"The Uyghurs," Hewitt said.
AI PROGRAM FLAGS CHINESE PRODUCTS ALLEGEDLY LINKED TO UYGHUR FORCED LABOR: 'NOT COINCIDENCE, IT'S A STRATEGY'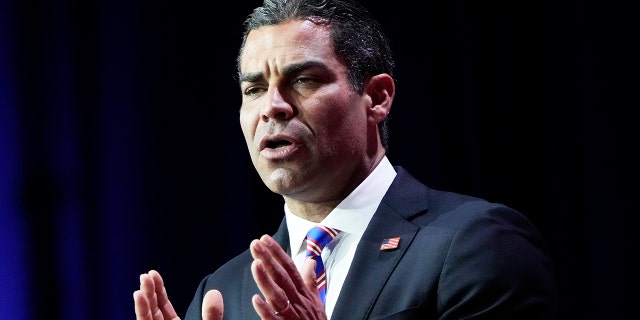 "What's a Uyghur," Suarez inquired further.
Moving on from the question due to Suarez's inability to identify what a Uyghur is, Hewitt told the mayor, "You've got to get smart on that."
The Uyghurs – a Turkic ethnic group originating from middle and East Asia – are recognized as native to the Xinjiang Uyghur Autonomous Region in northern China and have faced alleged human rights abuse by the Chinese Communist Party.
At the end of the conversation, Suarez insisted that Hewitt had given him "homework" in identifying exactly what a Uyghur is. "I'll look at what a, what was it, what did you call it, a Weeble," Suarez asked with a laugh.
"The Uyghurs. You really need to know about the Uyghurs, mayor," Hewitt told Suarez. "You've got to talk about it every day, okay?"
"I will talk about, I will search Uyghurs," Suarez insisted. "I'm a good learner. I'm a fast learner."
Reacting to Suarez's "huge blind spot" when it comes to Uyghurs, Hewitt wrote in a tweet after the interview: "Mayor @FrancisSuarez was pretty good for a first conversation on air about national security – except for the huge blind spot on the Uyghurs. 'What's a Uyghur?' is not where I expect people running for president to say when asked about the ongoing genocide in China."
Suarez's campaign did not immediately respond to a Fox News Digital request for comment on the mayor's remarks.
UYGHUR STUDENT DID NOT GO MISSING IN HONG KONG AFTER BEING INTERROGATED AT AIRPORT, RIGHTS GROUP SAYS
Last August, a report from the United Nations alleged that the Chinese government had committed "serious human rights violations" in its detention of Uyghurs and other mostly Muslim ethnic groups in the western region of Xinjiang.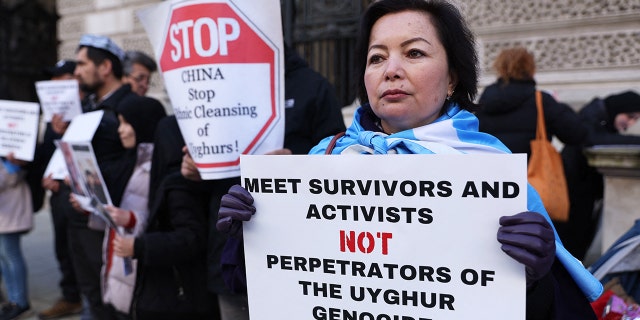 Drawn from interviews with former detainees at eight separate detention centers in the region, the 48-page report and its authors suggest "serious" human rights violations had been committed in Xinjiang under China's policies to fight terrorism and extremism, which singled out Uyghurs and other Muslim communities, between 2017 and 2019.
The report cited "patterns of torture" inside what Beijing called vocational centers, which were part of its reputed plan to boost economic development in the region, and it pointed to "credible" allegations of torture or ill-treatment, including cases of sexual violence.
Above all, perhaps, the report warned that the "arbitrary and discriminatory detention" of such groups in Xinjiang, through moves that stripped them of "fundamental rights … may constitute international crimes, in particular crimes against humanity."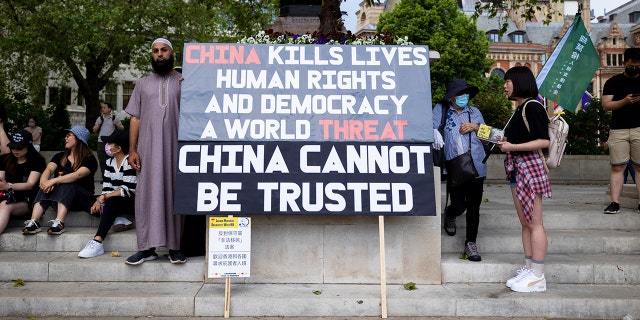 Earlier this month, tech firm Ultra announced the development of an artificial intelligence-powered tool it believes has helped analysts identify products coming from China through the platform Temu that were created using forced labor, possibly from the Uyghur population.
CLICK HERE TO GET THE FOX NEWS APP
"We're looking at Temu from the perspective of the Forced Labor Prevention Act," Ultra founder and CEO Ram Ben Tzion told Fox News Digital. "How many things that we don't want are coming into the country using this method, right? The good cases are counterfeit. The worst cases are poor quality."
Fox News' Bradford Betz and Peter Aitken contributed to this article.