An IRS whistleblower says the FBI's FD-1023 document that alleges a bribery scheme involving President Joe Biden, his son, Hunter, and a foreign national was never delivered to investigators, even though it was sent to the Delaware U.S. attorney for further investigation.
On Thursday, the House Ways and Means Committee released of portion of whistleblower testimony related to the IRS and Justice Department probe into Hunter Biden's "tax affairs." The federal probe began in 2018, amid the discovery of suspicious activity reports regarding funds from "China and other foreign nations."
That investigation originated out of the U.S. Attorney's Office in Delaware under U.S. Attorney David Weiss.
One whistleblower who spoke to House Republicans, Gary Shapley Jr., testified that decisions in the case seemed to be "influenced by politics."
BILL BARR SAYS HUNTER'S PLEA UPS ANTE ON DOJ TO RELEASE DOC ALLEGING BIDEN BRIBERY SCHEME: 'CRITICAL'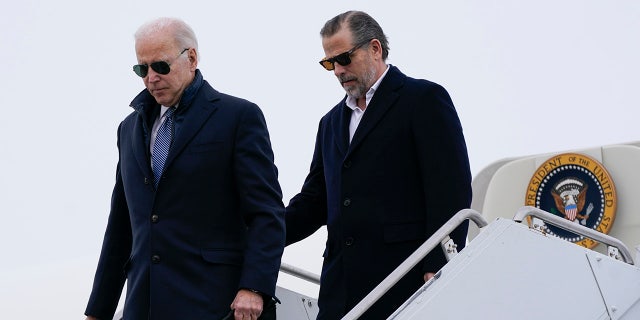 A second whistleblower was unnamed but said he "initiated the criminal tax investigation" into Hunter Biden as a special agent with the Internal Revenue Service Criminal Investigation who worked under Shapley.
He also said, in a supplemental letter submitted to the committee from his lawyer, that he was never informed of or received the FD-1023 document that was reportedly sent to the Delaware U.S. Attorney's Office for investigation, and which may have been useful as Hunter Biden was being investigated.
Fox News Digital reported this month that the contents of the FD-1023 allege that Joe Biden was paid $5 million by an executive of the Ukrainian natural gas firm Burisma Holdings. Biden's son, Hunter, sat on the board of that company as part of an alleged bribery scheme that involved influence over U.S. policy decisions, according to sources familiar with the document.
"In news articles, former AG William Barr is cited in saying that this Form 1023 was reviewed by the Western District of Pennsylvania and was ultimately shared with David Weiss, U.S. Attorney overseeing the subject Investigation," the letter said.
HUNTER BIDEN SCHEDULED TO MAKE FIRST COURT APPEARANCE ON FEDERAL TAX CHARGES IN JULY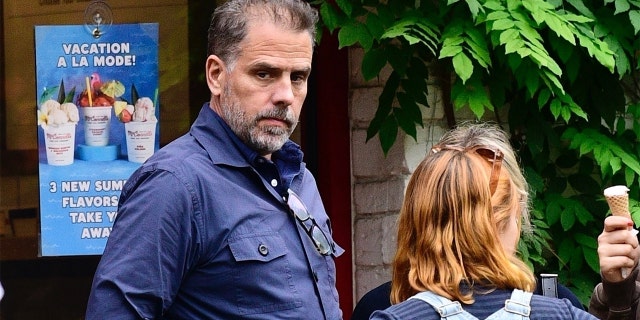 "As Mr. X has testified, he was the IRS-CI Case Agent over the subject investigation at the time – and Mr. X has stated to me that he has never seen this FBI Form 1023 and that he does not recall ever hearing about this information being turned over in any meetings with the prosecution team in Delaware," it said.
"Further, Mr. X informed me that this information could have been relevant to Mr. X's investigation at the time of the subject as it related to a claim of $5 million being paid to the subject which directly ties to email correspondence reviewed between subject and a business partner of subject sent in May of 2014, which is believed to reference the $5 million…," the letter said.
HUNTER BIDEN TAX PROBE BEGAN AS 'OFFSHOOT' IRS INVESTIGATION INTO AMATEUR PORNOGRAPHY SHOP: WHISTLEBLOWER
Barr previously told Fox News that during his tenure the FD-1023 document was reviewed by U.S. Attorney Scott Brady and his team in Pittsburgh as part of a screening process to determine the veracity or relevance of information.
Barr said there was "no sign" that the FD-1023 contained disinformation and was therefore routed to Trump-appointed U.S. Attorney Weiss in Delaware – who was and is still working a probe focusing on Hunter Biden.
The whistleblower, or "Mr. X" as he's referred to in the letter, testified that he considers himself to be a Democrat," identifies as a "career government employee."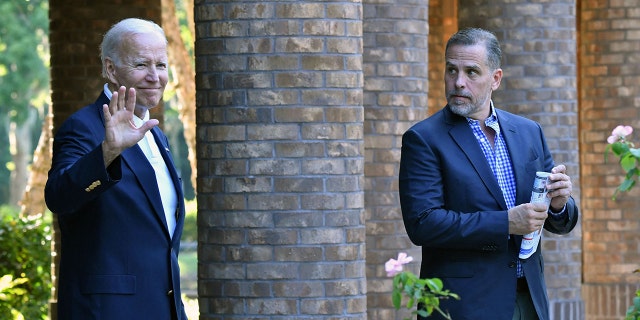 "I've tried to stay so nonpolitical that in the last presidential election I voted but had decided to not vote for the presidential candidate because I didn't want to be asked that question in a court proceeding in the future, and I didn't want to show any potential bias," he testified.
CLICK HERE TO GET THE FOX NEWS APP
Last week, Sen. Chuck Grassley, R-Iowa, who has been working in tandem with House Republicans in urging the release of the FD-1023, said from the Senate floor, "So, as I've repeatedly asked since going public with the existence of the 1023, what, if anything, has the Justice Department and FBI done to investigate?"
"The Justice Department and FBI must show their work," he said.
Barr also told Fox News Digital that current Attorney General Merrick Garland should release the FD-1023 form to Congress, providing necessary steps are taken to protect the life and safety of the confidential human source in the document.