President Biden on Friday said that Mexican President Andrés Manuel López Obrador has been asking him to stop the U.S. from sending guns to Mexico — even as the U.S. is tackling a massive fentanyl crisis that has primarily come into the country from its southern neighbor.
"You know what I get when we're talking about the fentanyl at the border and all that," Biden said at a speech at the Safer Communities Summit in West Hartford, Connecticut. 
"I speak to the president of Mexico: 'Will you stop sending guns to us?'" he said. "We are sending dangerous weapons, particularly assault weapons, to Mexico. To Mexico. They're asking us, 'Please stop it. Cut it off at the border.'"
The flow of guns into Mexico from the U.S. has been a major issue between the two countries for years, with guns used in cartel violence and other crimes in Mexico often found to have originated in the U.S.
MEXICAN PRESIDENT RAMPS UP ANTI-REPUBLICAN RHETORIC, URGES HISPANICS NOT TO GIVE DESANTIS 'ANY VOTES'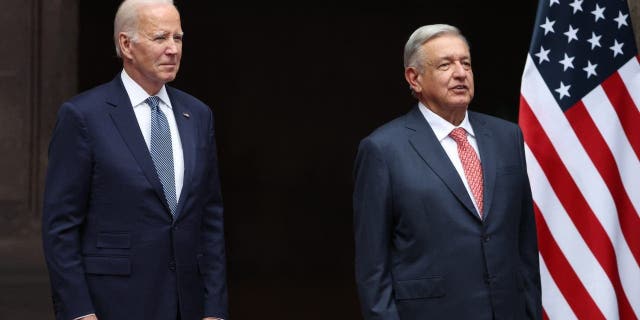 However, the U.S. has been facing a growing issue in recent years of a massive flood of fentanyl flowing into the country, directly leading to the deaths of tens of thousands of Americans each year.
There were 14,000 pounds of the drug seized last fiscal year at the southern border and more than 11,000 pounds this fiscal year to date. There were over 70,000 deaths recorded due to fentanyl in the U.S. in 2021, according to the National Institute of Health.
MEXICAN PRESIDENT PLEADS FOR CHINESE REGIME'S HELP ON FENTANYL CRISIS, SLAMS 'RUDE THREATS' FROM US
The illicit narcotic is primarily produced in Mexican drug labs using Chinese precursors. Yet, despite it leading to massive numbers of death in the U.S., López Obrador has sometimes been dismissive of the problem, or sought to blame the U.S. for his country's failure to control the cartels.
"Here, we do not produce fentanyl, and we do not have consumption of fentanyl," López Obrador said in March. "Why don't they [the U.S.] take care of their problem of social decay?"
Later that month, he also took another jab at the U.S. on the issue.
"There is a lot of disintegration of families. There is a lot of individualism. There is a lack of love, of brotherhood, of hugs and embraces," López Obrador said, according to The Associated Press. "That is why [U.S. officials] should be dedicating funds to address the causes."
MEXICAN PRESIDENT SAYS LACK OF 'HUGS AND EMBRACES,' NOT DRUG CARTELS, TO BLAME FOR FENTANYL CRISIS
He has also responded aggressively to Republicans who have suggested taking out drug labs in Mexico, promising an "information campaign" to encourage Hispanics in the U.S. not to vote for Republicans. 
López Obrador has also written to Chinese President Xi Jinping in an effort to help stop the flow of precursors into Mexico — but again used that move to swipe at the U.S.
CLICK HERE TO GET THE FOX NEWS APP
"Unjustly, they are blaming us for problems that in large measure have to do with their loss of values, their welfare crisis," López Obrador wrote. "These positions are in themselves a lack of respect and a threat to our sovereignty, and moreover they are based on an absurd, manipulative, propagandistic and demagogic attitude."