Iowa's high court refused Friday to unblock a strict ban on most abortions, rebuffing Republican Gov. Kim Reynolds and, for now, keeping the conservative state from joining others that have severely limited access to the procedure.
The decision to uphold a 2019 district court ruling that blocked the law comes roughly a year after the same body — and the U.S. Supreme Court — determined that women do not have a fundamental constitutional right to abortion.
The blocked law bans abortions once cardiac activity can be detected, usually around six weeks of pregnancy and before many women know they are pregnant.
LAST IOWA TENANTS EVACUATE FROM BUILDING AFTER NEARBY APARTMENT COLLAPSES
While the state's high court maintains the block on the law, it does not preclude Reynolds and lawmakers from passing a new law that looks the same. The decision Friday was largely procedural — the 2022 appeal to the 2019 ruling was too late.
Abortions remain legal in Iowa up to 20 weeks of pregnancy.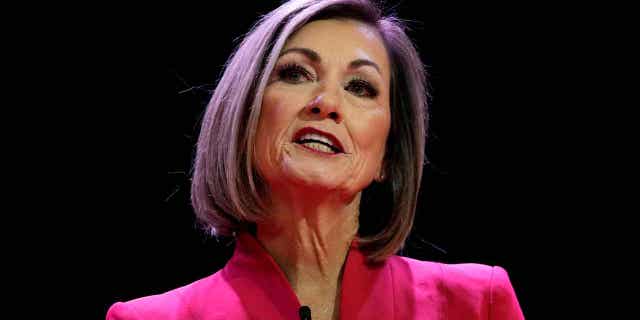 Most Republican-led states have severely curtailed access to abortion in the year since the U.S. Supreme Court stripped women's constitutional right to abortion by overturning Roe v. Wade and handing authority over the issue to states.
COLLAPSED DAVENPORT, IOWA, APARTMENT BUILDING MOSTLY DISMANTLED, INVESTIGATORS HIRED
Reynolds signed the 2018 law despite state and federal court decisions at the time, including Roe, affirming a woman's constitutional right to abortion. Planned Parenthood sued and a state judge blocked the law the following year. Reynolds did not appeal the decision at the time.
In a separate case, the Iowa Supreme Court decided last year to reverse an opinion saying the state's constitution affirms a fundamental right to abortion. Roe was overturned a week later and Reynolds sought to dissolve the 2019 decision.
A state judge ruled last year that she had no authority to do so and Reynolds appealed to the state's Supreme Court, which is now far more conservative than when the law was first passed. Reynolds appointed five of the court's seven members.
CLICK HERE TO GET THE FOX NEWS APP
Although called a "fetal heartbeat" law, the measure does not easily translate to medical science. At the point where advanced technology can detect the first visual flutter, the embryo isn't yet a fetus and does not have a heart. An embryo is termed a fetus eight weeks after fertilization.
The Iowa law contains exceptions for medical emergencies, including threats to the mother's life, rape, incest and fetal abnormality.