Steve Buyer, a 64-year-old former congressman from Noblesville, Indiana, was convicted of insider trading at a court in Manhattan in March,
Buyer was convicted in connection with the merger between T-Mobile and Sprint, as well as other stock purchases he made at a later time.
Federal Sentencing guidelines call for him to serve around a three-year sentence, but his lawyers want him to avoid any jail time.
A former Indiana congressman should spend no time in prison after his insider trading conviction, his lawyers told a judge Wednesday.
Steve Buyer, 64, of Noblesville, Indiana, was convicted by a jury in Manhattan federal court in March of four securities fraud charges after a two-week trial for stock trades he made while working as a consultant and lobbyist after he finished serving in Congress from 1993 to 2011.
He was convicted in connection with insider trading involving the $26.5 billion merger of T-Mobile and Sprint, announced in April 2018, and stock purchases he made at a later time in the management consulting company Navigant when his client Guidehouse was set to acquire it in a deal publicly disclosed weeks later.
Federal sentencing guidelines call for him to serve a prison sentence of about three years, though judges frequently depart downward from the recommendations.
FORMER GOP REP. STEVE BUYER CONVICTED OF INSIDER TRADING
His lawyers wrote in a submission ahead of a July 11 sentencing that the Republican should face only home confinement and community service.
The lawyer and Persian Gulf War veteran once chaired the House Veterans' Affairs committee and served as a House prosecutor at former President Bill Clinton's 1998 impeachment trial.
Buyer's attorneys told the judge who will sentence their client that Buyer has suffered substantially as a result of the prosecution and conviction.
The case has "irreparably damaged his reputation, tarnished his achievements and lifetime of service, and continue to bring shame and humiliation to him and his family," the lawyers said.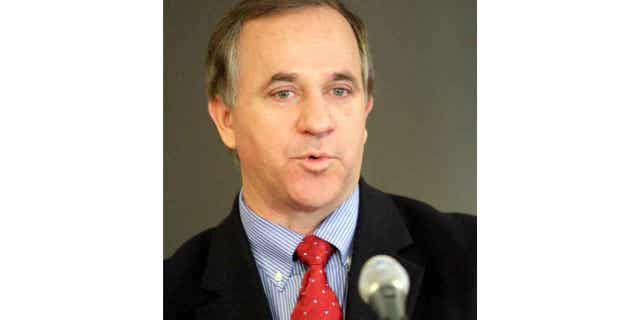 They said he lost all of his consulting clients after he was indicted and his two businesses "crumbled," erasing average yearly gross income of about $2.2 million that existed from 2018 to 2021. Now, they produce no income, the lawyers said.
GOP REP. STEVE BUYER TO RETIRE AMID ETHICS PROBE
As a result of the conviction, he will lose his Virginia and Indiana bar licenses, and he can never again consult for and advise Fortune 500 companies or any others where he could have access to insider information, they said.
"The cost of litigation has also been substantial, causing Mr. Buyer and his wife to sell most of their assets, including their home, condo, and two cars," the lawyers said. His wife will have to go back to work at age 65, they added.
In addition, four financial institutions have closed or frozen his bank accounts, including his investment accounts, and two credit card companies have closed his accounts, the lawyers said.
The attorneys said a sentence that does not include prison time would not be unusual because more than a third of individuals convicted of insider trading charges who previously had a clean record faced no prison time. And over 70 percent of the sentences were less than two years in length, they said.
CLICK HERE TO GET THE FOX NEWS APP
At trial, prosecutors said his clients were motivated to share lucrative secrets with him because they wanted his help as a consultant.
Defense lawyers contended that he was a stock market buff who did research that led to legal profitable trades. Buyer testified on his own behalf.
Buyer made over $320,000 illegally for himself, relatives and a woman with whom he had an affair, authorities said.