The General Assembly of North Carolina has approved its annual Farm Act, a 28-page bill that would exempt farmers from paying compost sales tax among other measures. 
The Farm Act also contains a contentious item limiting wetland protections as the state can't adopt stricter conservation measures than federal law.
North Carolina's protection limits could lead to its wetlands being open for development. 
The North Carolina General Assembly approved the annual Farm Act on Thursday, a bill containing the usual hodgepodge of agriculture provisions, along with a contentious item involving limiting wetlands protections.
The Senate voted 37-6 for the bill containing changes made by the House, which approved its version on Wednesday by a vote of 77-38. Those margins signal that any veto by Democratic Gov. Roy Cooper could be overridden.
The 28-page bill in part would exempt farmers from paying sales tax on compost, create new penalties for drivers who spill certain animal waste on the road and leave the scene, and designate a "Farmers Appreciation Day" in November.
FARMERS SLAM BIDEN OVER LATEST ECO REGULATION TARGETING BUSINESSES: 'FEDERAL OVERREACH'
On wetlands, the state couldn't adopt more stringent protections on them than how they are defined by federal law. Along with a recent U.S. Supreme Court decision and existing state law, the change would mean state and federal protections on lands no longer considered controlled wetlands or streams under federal law would be limited, WRAL-TV reported.
Opponents of the change have said it would result in a massive amount of wetlands – important for absorbing flood waters and pollution — being open for development.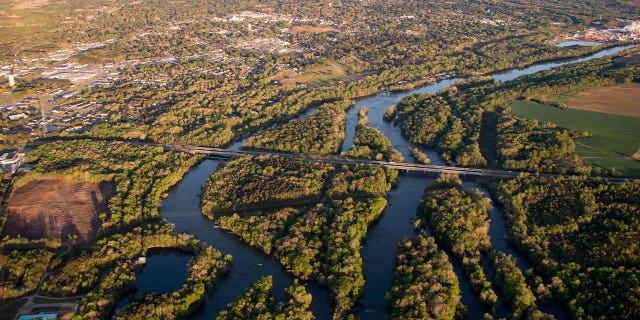 "It is hard to describe how harmful this bill is to North Carolina's water quality, wildlife, fisheries and communities," Mary Maclean Asbill, director of the North Carolina offices of the Southern Environmental Law Center, said in a news release Thursday. The group estimated protections would be taken away from "millions of acres."
Republican Rep. Jimmy Dixon, of Duplin County, who shepherded the bill in the House, told colleagues on Wednesday that the impact of the wetlands provisions upon flood control and water quality was overstated.
CLICK HERE TO GET THE FOX NEWS APP
'What we're talking about here is isolated wetlands," said Mike Carpenter, with the North Carolina Home Builders Association, which pushed for the wetlands change.
He added: "It's not as gloom and doom and disastrous as our friends in the environmental community would like to believe it is."
Critics this week also highlighted provisions in the bill that would limit monetary penalties for cutting down timber in certain areas near bodies of water and tell veterinarians at least a week in advance before state regulators inspect their offices.