EXCLUSIVE: House Speaker Kevin McCarthy, R-Calif., blasted the Department of Justice (DOJ) on Friday in response to former President Donald Trump being indicted as part of Special Counsel Jack Smith's months-long investigation into the former president's handling of classified documents.
McCarthy — who made the comments during a tour at a historical site in Pennsylvania — heavily criticized the DOJ for applying a double standard when it came to Trump and called for federal prosecutors to apply equal justice of the law. 
"This is going to disrupt this nation because it goes to the core of equal justice for all, which is not being seen today. And we're not going to stand for it," McCarthy told Fox News Digital.
"This is a very dark day in America when you think about what they're trying to indict President Trump on," McCarthy told Fox News Digital in an interview. "You've got a sitting president right now in the exact same situation. You have a former first lady, senator, secretary of state, that had the same situation that nothing was done to." 
TRUMP INDICTED ON 37 FEDERAL COUNTS OUT OF SPECIAL COUNSEL JACK SMITH'S INVESTIGATION INTO CLASSIFIED RECORDS
On Thursday evening, Trump was listed in an indictment as a criminal defendant charged with at least seven counts involving obstruction of justice, conspiracy and illegal retention of classified government material.
"In America, some of our greatest strength is equal justice and today it shows that it is not," McCarthy said. "But what's even worse upon this — this is a leading contender to run for office with an administration of a current president that has the exact same documents. Even worse from the aspect there are documents that President Biden has that he had when he was a senator."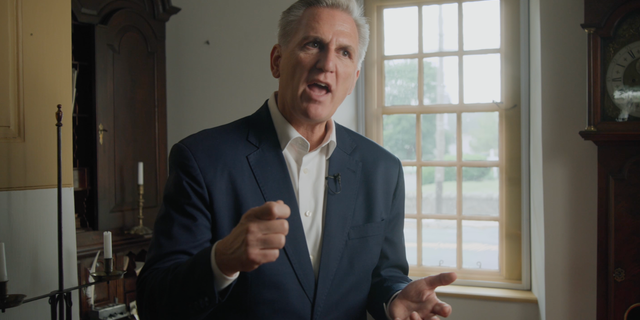 McCarthy said that, as a member of the Gang of Eight — the group of lawmakers that are regularly briefed on classified intelligence — he knows never to remove documents from the sensitive compartmented information facility (SCIF) where classified briefings take place. He questioned whether Biden senator removed documents from the SCIF when he was a senator.
"I know from being part of the Gang of Eight," McCarthy told Fox News Digital. "You do not remove any documents from the SCIF. How does he even have the possibility of a document from the Senate?"
The DOJ has been investigating Trump's handling of classified documents since the FBI conducted an unprecedented raid on the former president's private residence in August 2022.
EXCLUSIVE: TRUMP SAYS INDICTMENT IS 'ELECTION INTERFERENCE AT THE HIGHEST LEVEL'
The National Archives and Records Administration (NARA) told Congress in February 2022 that Trump took 15 boxes of presidential records to his personal residence in Florida. NARA recovered the 15 boxes from Mar-a-Lago and "identified items marked as classified national security information within the boxes." The matter was referred to the Justice Department by NARA. 
Attorney General Merrick Garland announced in November that he would appoint Jack Smith, a career prosecutor, to take the reins in the DOJ's probe into Trump.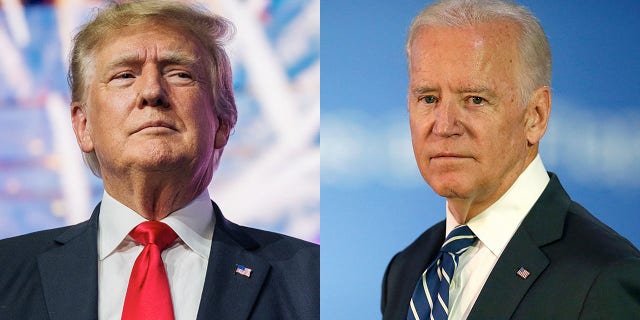 Then, in January, it was revealed that President Biden's personal attorneys discovered documents with classified markings on Nov. 2 of last year at the Penn Biden Center for Diplomacy and Global Engagement, which Biden previously used as a personal office. After additional tranches were discovered at Biden's home in Delaware, the DOJ appointed Robert Hur, a former U.S. attorney, to be a special counsel in the case.
The White House noted at the time that Biden has fully cooperated with the DOJ's investigation.
On Friday, McCarthy said he has been in contact with House Oversight Committee Chairman James Comer, R-Ky., and House Judiciary Committee Chairman Jim Jordan, R-Ohio, about actions they could take to ensure fairness in the cases. He also hinted at additional revelations that Jordan was planning to reveal.
"You've got to treat people equally," McCarthy said. "What's going to be very concerning here — I've already talked to Chairman Comer and Chairman Jim Jordan of things that we can do to ensure equal justice — but there's something interesting in some of our investigations we just had earlier this week, a retired FBI agent that was a part of the investigation here."
CLICK HERE TO GET THE FOX NEWS APP
"When you learn, and I think Jim Jordan is going to bring it out tonight, when you learn of some of the things that he had said of how this investigation was carried out, you'll see then that this judgment is wrong by this DOJ, that they treated President Trump differently than they treat others, and it didn't have to be this way," he added.
Fox News Digital Production Assistant Aubrie Spady contributed to this report.