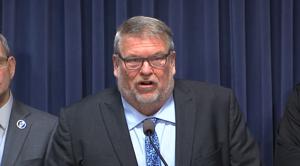 (The Center Square) – Gov. J.B. Pritzker signed the state's $50.6 billion budget on Wednesday. However, one expense is unclear, leading some to question whether new taxes may be coming for Illinoisans as a result.
Illinois has a contract with the American Federation of State, County and Municipal Employees, or AFSCME, which expires at the end of June. The union covers many Illinois state employees.
The new contract with AFSCME could cost up to an additional $300 million when finally settled, according to some lawmakers, but was not included in the state's budget.
"We have a few state workers, mostly represented by AFSCME," state Sen. Win Stoller, R-Germantown, said. "Well, their contract is coming up this year. I don't know if you noticed, but I think we all know that it's coming. That's $200 to $300 million, maybe. That's not included in this budget."
During the budget signing, Pritzker said funding was available.
"We built into the agencies' budget. We have, as you know, we have quite a number of agencies. We built in what we thought might be the appropriate amount of money for what we expect from that AFSCME negotiation," Pritzker said.
The AFSCME contract is still being negotiated and there is yet to be a final number for the expense.
State Rep. Charlie Meier, R-Okawville, told The Center Square that there is no way to prepare for the final cost and that if the contract is not fully funded in the 2024 budget, Democrats could offer a new tax on residents.
"I'm still afraid this budget will have holes when it gets later into the year, and then you will hear the talk right after the first of the year that we are going to have to put the progressive income tax back on the ballot," Meier said.
The Illinois Constitution requires a flat income tax. A progressive income tax proposal in 2020 would have brought a tiered income tax structure with increased taxes on higher-income earners, but voters rejected the idea.
Meier said many expenses not fully covered in the budget would leave the state needing more funding.
"We will see on a bill promoting the progressive income tax again in the future," Meier said. "It will be because they have reasons because they need the extra funds, whether that's from the AFSCME contract or more money for the illegal immigrants' Medicaid."
The state's 2024 budget goes into effect on July 1.