Democratic presidential candidate Robert F. Kennedy Jr. visited the southern border in Yuma, Arizona this week, where he described the horrific conditions faced by migrants and said the crisis is "unsustainable."
"This is not a good thing for our country, it's not a good thing for these people and it is unsustainable," Kennedy said.
The Democrat said in a cell phone video with a section of border wall behind him that he saw migrants from Peru, Afghanistan, Bangladesh, China and elsewhere. He said Border Patrol agents in the sector have encountered migrants from 117 nations in the last few years.
"They're put on buses and they're brought to the Border Patrol station where they're processed. After 4 or 5 days, they're released on their own recognizance into our country and most of them are never seen or heard from again," he said.
RFK JR. SAYS HE WILL MAKE THE BORDER IMPERVIOUS IF ELECTED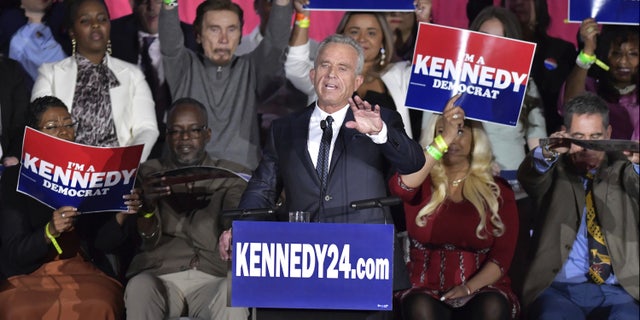 He described not only the effect on the U.S., but also the "heartbreaking" conditions faced by migrants who are drawn to the U.S. border in the belief they will be released into the interior of the U.S.
"This is a humanitarian crisis because of the understanding across the globe that we have an open border here," he said.
The remarks mark the latest statements on the border crisis by the environmental lawyer who is challenging President Biden for the nomination.
ROBERT F KENNEDY JR SLAMS BIDEN BORDER 'CHAOS' AFTER ILLEGAL IMMIGRANT ALLEGEDLY SLAUGHTERS FIVE IN TEXAS 
Last month, he noted the illegal immigrant background of a suspect arrested for the murder of five people in Texas.
"It is not anti-immigrant bigotry to demand an immigration system that keeps out criminals. In fact, letting them in stokes bigotry. As President, I will enforce a secure border, and I will expand the kind of LEGAL immigration that made our country great."
He also urged officials to address U.S. policies that create the conditions that cause many migrants to flee their countries in the first place, citing the war on drugs.
"The War on Drugs is one," Kennedy posted. "U.S.-funded dictators, juntas, paramilitaries, and death squads. Neoliberal extraction of resources. Unpayable debts. It is inhumane and hypocritical to deny immigration while creating the conditions that drive immigration. As President, I will change these policies. That's the only long-term solution to the border crisis."
A few days later he told Fox News Digital he will "make the border impervious" if elected president.
"I will make the border impervious," Kennedy said. "We cannot release people, illegal aliens across the border."
CLICK HERE TO GET THE FOX NEWS APP 
"But we also need to recognize that this is a humanitarian crisis, and we need to fix the policies that have caused this mass migration, including decades of U.S. foreign policy that have imposed austerity on those governments, neoliberal policies that have encouraged the rise of the Junta military dictatorship that has trained and supported death squads in countries across Central America," Kennedy continued.
Fox News' Houston Keene and Louis Casiano contributed to this report.