Gov. Tim Walz signed a $2.6 billion public infrastructure package Thursday, the largest in state history and the biggest bipartisan success of an often partisan legislative session.
The two bills together use $1.5 billion in borrowing and $1.1 billion in cash to fund a long list of projects statewide. They include roads and bridges, bus rapid transit lanes, drinking water and wastewater treatment plant upgrades, construction at state-run and tribal colleges and universities, facilities for state parks and trails, affordable housing and community centers, to name just a few categories. And the state money will leverage hundreds of millions of dollars in federal funds.
The Democratic governor signed the legislation just upstream from the landmark Hennepin Avenue bridge over the Mississippi River in downtown Minneapolis, where then-Gov. Rudy Perpich signed a projects bill in 1988 that funded construction of the span. The new package includes $3.5 million for predesign work ahead of eventual renovations to the busy bridge.
MINNESOTA TO REVAMP COPPER-NICKEL MINING RULES OVER LIGHT, NOISE POLLUTION CONCERNS
"This is the truly the golden age of infrastructure construction across the state," Walz said. "This is the golden age of keeping up with our commitments to the next generation."
Most of the projects aren't flashy and are of interest primarily in their local communities, but the governor and other officials said the entire state will benefit from the jobs and the economic development that the total package will generate.
Minnesota's largest previous project package, known as a bonding bill, totaled nearly $1.9 billion in 2020. A divided Legislature was unable to agree on bonding bills in 2021 or 2022 because 60% supermajorities in each chamber are required to approve the state taking on more debt, and divisions between the Democratic-controlled House and GOP-led Senate were too big to bridge.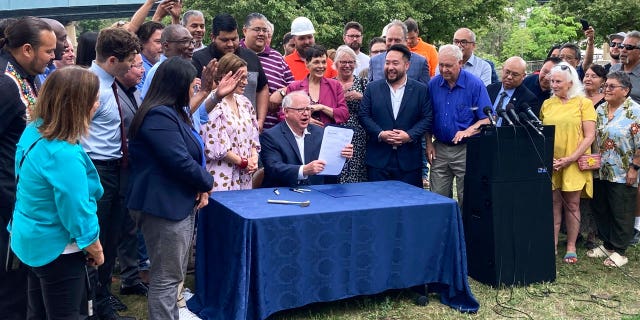 Democrats entered this session with majorities in both chambers. They used their power to sail full-speed ahead on a long list of pent-up priorities, from abortion rights, to education funding, to gun control to legalizing marijuana. Republicans felt sidelined. This year's infrastructure package didn't come together until the closing days of the session. While a version passed the House with sufficient Republican support, Senate Republicans made supplying enough of their votes contingent on bigger tax cuts than Democrats wanted. In the end, Republican senators settled for $300 million to aid struggling nursing homes.
MINNESOTA GOV. WALZ SAYS TRAIN CONTAINING HAZARDOUS MATERIALS DERAILED NEAR LANCASTER
There were "a lot of bumps in the road along the way, but this is a perfect example of what can happen in state government when people decide that regardless of party, or where you live in the state, that you should get together to try to do what's right for the state of Minnesota," said Rep. Dean Urdahl, of Grove City, one of the lead Republicans in negotiations on the package.
Among the projects that Walz highlighted was money for a new fire hall for the northwestern Minnesota city of Dilworth, where the existing facility was built in the 1980s to serve about 5,600 residents but now serves 20,000. He also named the $78 million for the state veterans home in the St. Paul suburb of Hastings as a personal favorite. He also cited a water treatment plant in the southern Minnesota city of Mankato.
Lt. Gov. Peggy Flanagan, a member of the White Earth Band of Ojibwe, said the package makes "historic" investments in Black, Brown and Native American communities that have often been left out of public investment. She said they include over 35 projects totaling over $120 million that will be run via organizations led by and for people of color and Indigenous residents, including an emergency shelter in St. Paul serving Native American youth.
CLICK HERE TO GET THE FOX NEWS APP
"It is raining infrastructure!" Flanagan quipped as the mostly cloudy skies opened up for a brief shower.