An ambassador claimed during her testimony before a Senate committee Wednesday that the Pentagon was blocking the United States from participating in an international investigation into the so far more than 88,000 alleged Russian war crimes against humanity documented in Ukraine to date. 
Beth Van Schaack, ambassador-at-large for Global Criminal Justice, under the U.S. Department of State, testified before the Senate Foreign Relations Committee in Washington, D.C. She appeared hesitant to acknowledge the Pentagon's role, but ultimately did after a number of statements and questions from senators.
"The State Department has encouraged working with the [International Criminal Court] ICC to bring Putin to justice. It is no secret that Department of Defense is the holdup," Chairman Sen. Bob Menendez, D-N.J., said in his opening statement before Van Schaack. 
"I asked the Department of Defense to participate in today's hearing so we could better understand why they are blocking implementation of federal law," he said. "Whatever they are thinking, a refusal to implement the law is unacceptable in this situation, blocking critical U.S. assistance for investigations into atrocities in Ukraine, and is dangerous to our system of government." 
RUSSIA'S EARLY MORNING ATTACK ON KYIV KILLS AT LEAST 3, INCLUDING CHILD, WOUNDS OTHERS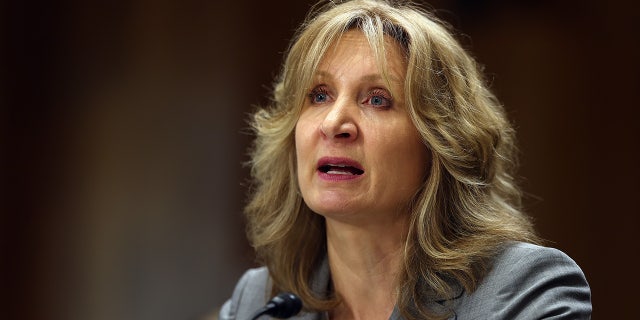 "The Defense Department does not get to pick and choose which laws it will obey," Menendez said twice for emphasis. "The United States needs to provide full support for investigations that could lead to holding Russian officials accountable. As we continue to hear about Russian forces boiling peoples' hands in water, systematically raping women while threatening their children, and killing innocent civilians in cold blood, we cannot sit and do nothing." 
Later in the hearing, Sen. Chris Van Hollen, D-Md., noted the chairman's point that Congress passed legislation instructing all agencies in the U.S. government to cooperate with the ICC and provide evidence that would support their prosecution of war crimes.
"But the Defense Department is clearly dragging their feet. My question to you is what is the impact of that been?" Van Hollen asked Van Schaack. "In other words, what evidence might we have been able to supply to the ICC that we've not supplied because DOD has not been cooperative?" 
Noting that specifics are usually not shared, Van Schaack said her team collected a "range of information that might be very helpful to a justice process anywhere." 
"Her team can share that with multiple other entities, including the commissioner of inquiry for the United Nations, individuals states that might be prosecuting that with the [Ukrainian] prosecutor general, but we cannot share that with the ICC." 
"Because of the position that DOD has taken, right?" Hollen continued.
"Because we don't have consensus yet on that," Van Schaack responded.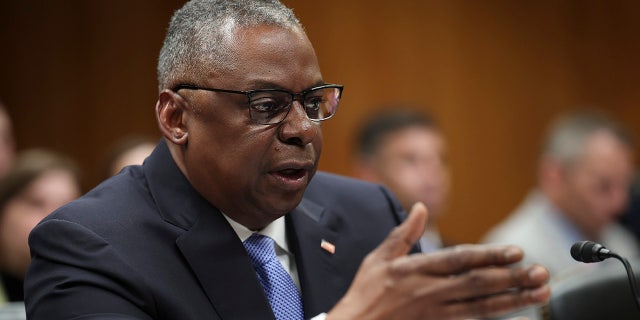 PUTIN SAYS DRONE ATTACKS ON MOSCOW ARE ATTEMPT BY UKRAINE TO 'INTIMIDATE RUSSIA'
However, the senator pushed, "And the one agency that's not consenting is DOD is that right?" 
Van Schaack tried to deflect to the Secretary of Defense's own comments before the Senate Appropriations Committee, but Van Hollen insisted, "It's just a yes or no, right? The Defense Department is not cooperating in that way?" 
"Yes," Van Schaack replied.
Secretary of Defense Lloyd J. Austin III, amid a grilling by the Senate Appropriations Committee earlier last month on his hesitancy to supply information to the ICC to prosecute Russian President Vladimir Putin's alleged war crimes, testified that the Pentagon "firmly supports the goal of holding Russia accountable for its violations in Ukraine."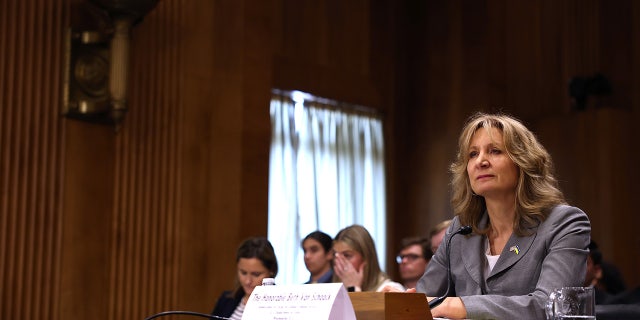 "I will always prioritize the protection of U.S. military personnel in anything that we do," he added, suggesting the reason. "I do have concerns about reciprocity going forward."
The ICC previously launched an investigation into alleged U.S. war crimes carried out in Afghanistan, prompting then-President Trump to slap sanctions and other restrictions on the court's top prosecutors and their relatives. In initially doing so, Trump said the ICC probe threatened to subject current and former U.S. government and allied officials to harassment, abuse, and possible arrest and "infringe upon the sovereignty of the United States." President Biden has since lifted those sanctions. 
CLICK HERE TO GET THE FOX NEWS APP 
Van Schaack testified Wednesday about the concern over the potential prosecution of U.S. troops amid the war in Ukraine. 
"I'll say at the outset that in my role as the lead diplomat in the international justice space, I would work tirelessly to ensure that no U.S. personnel will be brought before the ICC," she said. "I do not think that that is an acute risk at this time."