House Freedom Caucus Chair Scott Perry, R-Pa., dodged a question about where he stands on taking Speaker Kevin McCarthy's gavel away after the House passed the GOP leader's debt limit bill.
The bill, forged from a compromise between McCarthy and President Biden, passed in a 314-117 vote that saw majorities in both parties support the agreement, which also meets the GOP demand of cutting nondefense discretionary spending over the next two years. Republicans supported the bill by a 149-71 margin, and Democrats supported it 165-46.
It comes after some conservative critics of the bill floated using the motion to abandon the deal that McCarthy struck with the right during his speakership vote, which only requires one House member to call a full chamber vote on whether to remove him from his current leadership role – known as a "motion to vacate."
Asked by Fox News Digital about the measure after the vote, Perry said, "I'm not even–" before getting into an elevator off the House floor. 
DEMOCRATS HELP MCCARTHY ADVANCE DEBT CEILING DEAL IN NAILBITER HOUSE VOTE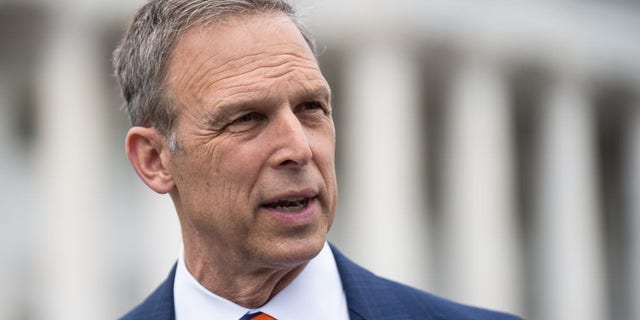 McCarthy himself dismissed concerns about the move during a press conference after the bill's passage. "That's up to them," he told Fox News Digital. 
The idea had been floated this week by Rep. Dan Bishop, R-N.C., who told Real America's Voice, "It's inescapable to me that there must be a motion to vacate the chair….This is a fundamental breach of the agreement that we reached in January." 
Rep. Ken Buck, R-Colo., told reporters earlier that McCarthy should be "concerned" about the threat of the motion to vacate.
GOP TOUTS MCCARTHY-BIDEN DEAL AS 'CONSERVATIVE' VICTORY AS SOME REPUBLICANS DEFECT
Buck quipped to Fox News Digital after the vote, "I don't know. The Democrats will probably vote for the speaker now, because they voted for this bill more than Republicans did.
"I'm not going to file a motion to vacate, but I do think it's going to be a discussion next week," he added. "I don't know how you avoid the discussion at this point, more Democrats voted for this bill than Republicans," Buck said.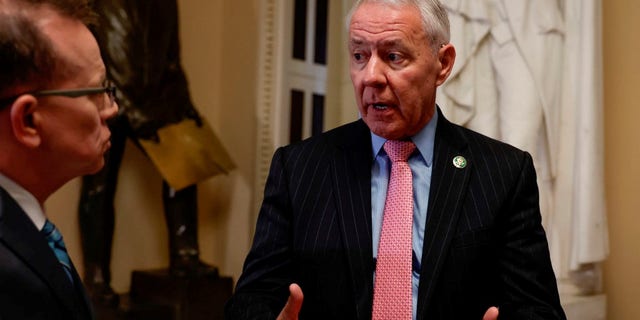 But other Republicans who voted against the bill pumped the breaks on the idea – at least for now. 
"I wouldn't do that to Kevin now," Rep. Ralph Norman, R-S.C., told Fox News Digital after the vote. The House Freedom Caucus member continued, "He's only been in office, what, five months as speaker. What we've got to do now is see how he does on appropriations.
DEBT CEILING AGREEMENT IN PRINCIPLE REACHED BETWEEN DEMOCRATS, REPUBLICANS
"He's got to drop the hammer. If he doesn't, that will be a problem. He knows," Norman said. "But now, I mean, I'd give him the benefit of the doubt. We'll see how this turns out. I will tell you this, it's an insult to have this many Democrats, who we got zero votes early on, to have to go with this."
But Rep. Thomas Massie, R-Ky., said he was "not at all concerned" about someone pushing McCarthy out of the Speakership.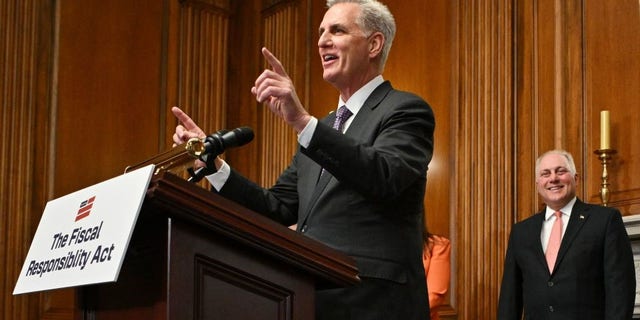 "Some people are dissatisfied, but I don't think so. We just had that bill pass with two-thirds of the conference, and even some of the people who voted no, we're still okay with the process. So I don't see it happening," Massie said. 
Freedom Caucus member Rep. Matt Rosendale, R-Mont., called the vote "an absolute insult to the American people," while Bishop wrote, "This is what it looks like when the uniparty cartel sells out the American people."
"More Democrats voted for this "historic conservative victory" than Republicans. What a joke," Rep. Eli Crane, R-Ariz., tweeted.
The Freedom Caucus retweeted a number of other statements sharing the same sentiment as its members, including from Sen. Mike Lee, R-Utah, who will vote on the bill when it heads to the Senate on Thursday, and Heritage Foundation president Kevin Roberts.
Rep. Eric Swalwell, D-Calif., suggested that McCarthy likely wouldn't get help from Democrats if a motion to vacate was brought to the floor.
"We did his job," Swalwell told Fox News Digital in reference to more Democrats voting for the bill than Republicans. "More Democrats voted to pay our bills. He came well short of what he promised the president he would deliver – but that's for them to decide."
Asked if Democrats would vote to keep McCarthy in the speakership if a conservative Republican moved to remove him, he said, "No, I mean, it's not our job. We'd put up votes to save the country, but it's about the country, not him."