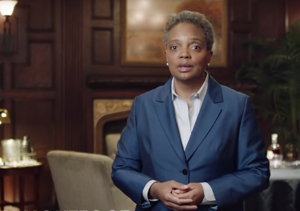 (The Center Square) – Lori Lightfoot's tenure as Chicago mayor will end after her first term.
Lightfoot – widely criticized as rising violent crime plagued the city during her four years in office, for her strict COVID-19 restrictions, and as students in Chicago Public Schools struggled to perform at grade level – conceded in her race for re-election in Tuesday's primary.
Former Chicago Public Schools CEO Paul Vallas and Cook County Commissioner and Chicago Teachers Union operative Brandon Johnson will head to a runoff election to determine Lightfoot's successor.
Vallas held a healthy lead with more than 95% of precincts reporting, receiving about 35% of the total votes counted.
Since no candidate received more than 50% of the vote, the election will go to a runoff on April 4.
"I have called Brandon Johnson and Paul Vallas to congratulate them on their victories and advancing to the runoffs," Lightfoot said late Tuesday. "Obviously, we did not win the election, but I stand here with my head held high and a heart full of gratitude."
During his campaign, Vallas focused on high violent crime rates in the city and reforming policing. Chicago has been the murder capital of the U.S. for nine consecutive years.
Vallas thanked his supporters Tuesday night and said his work could only be done with their help. 
"I have had success because I have always had the good sense to listen to the community to empower the community and draw my leadership from the community," Vallas said. 
The Chicago Tribune reported that the Vallas campaign raised just over $6 million in funding for his campaign, which will now continue through April. 
"Thank you, Chicago," Vallas said. "Our campaign isn't over yet, and we will be spending the next five weeks talking to the people of our city about the need to elect a leader who is transparent, accountable, collaborative, and who puts public safety at the top of our priorities." 
Johnson, who surged in polling in recent weeks, finished in second place, earning a runoff against Vallas. He raised nearly $4 million for his campaign. 
"I am so freaking proud because we did this. A few months ago, they said they didn't know who I was. Well, if you didn't know, now you know." Johnson told supporters. "Tonight is about building a Chicago that truly invests in our people." 
Johnson is a staunch supporter of public employee unions, particularly the CTU, drawing criticism from those who argue public sector unions have too much power in Illinois.
"Brandon Johnson's platform on the issues Chicagoans care about stands in stark contrast to what new polling shows Chicagoans want," Illinois Policy Institute spokesman Austin Berg said in a statement released late Tuesday. "Sixty-two percent of Chicagoans support school choice. Brandon Johnson and the Chicago Teachers Union want to crush school choice."
Six other candidates also were eliminated from contention Tuesday night, including Congressman Jesus "Chuy" Garcia.