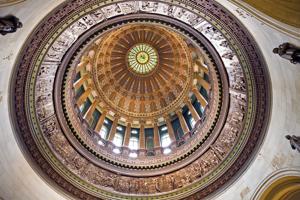 Chicago ends Sister City relationship with Moscow
As the Russian invasion of Ukraine rages on, Chicago Mayor Lori Lightfoot announced she was severing the city's "Sister City" relationship with Moscow.
The mayor's announcement comes less than a day after a group of city council members proposed a resolution calling on the city to end the relationship.
Chicago has a total of 29 Sister cities around the world with Moscow coming on board in 1997. 
Possible charges against utility
Consulting funds flowing from AT&T to a lobbyist with ties to then-House Speaker Michael Madigan are at the center of a federal investigation into the telephone giant's lobbying practices in Springfield.
The Chicago Tribune reported that prosecutors had notified AT&T last month they were considering filing criminal charges against its Illinois subsidiary, formally known as Illinois Bell Telephone Co., involving a nine-month consulting contract in 2017 worth $22,500.
Ejected lawmaker remains in chamber, vote switch turned off
Gov. J.B. Pritzker may have lifted the statewide mask mandate for most indoor public places, but masks are still required in the Illinois House of Representatives.
Supermajority Democrats voted to remove state Rep. Blaine Wilhour and two other lawmakers for not masking up Tuesday. Wilhour refused to leave, so Democrats turned off his voting switch.
Wilhour has a lawsuit against the House speaker over the issue with a hearing in Sangamon County next week. 
Sports specialty plate modifications passes Illinois House
A measure to amend what kinds of sports license plates are available for Illinois drivers to purchase passed the House Tuesday.
The measure would add several professional women's sports teams to specialty plates, including the Chicago Sky, Chicago Red Starts and Chicago Fire.
The measure would also remove the St. Louis Rams specialty plate as an option.
Illinois is 9th best baseball state
Illinois has been named one of the best baseball states in the country.
The Land of Lincoln placed 9th in a ranking by Fox Sports of every state on its overall baseball background, including winning percentages of each state's teams. California was ranked as the best baseball state while Illinois' neighbor Missouri ranked 8th.
Wyoming was ranked as the worst baseball state in the country.
State Fair concerts announced 
The Illinois State Fair has announced the first six acts scheduled to perform on the grandstand stage.
Country act Sam Hunt will kick off the first weekend of the fair Friday, August 12. Other acts include Brooks and Dunn, TLC and Shaggy, Jon Pardi, Disturbed and Sammy Hagar.
Tickets go on sale Friday, March 11.