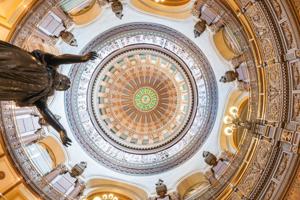 (The Center Square) – With Illinois' continued $140 billion unfunded pension liability, pension buyout programs are showing some results. 
Taxpayer costs for Illinois' public sector pensions take nearly a quarter of the state's budget every year. The state is gearing up for a more than $10 billion pension payment in Gov. J.B. Pritzker's proposed $45.5 billion budget. The governor wants to allocate $500 million more than what's required.
There are also savings being found from pension buyout plans that were approved several years ago.
Tim Blair, director of the State Retirement System, oversees three funds: state employees, judges and retired legislators. They pay about 77,000 individuals $3 billion a year. During a Senate committee hearing this week, Blair was asked about the buyout programs.
"We've paid 2,158 retirees a little over $243 million as part of the [cost of living allocation] buyout program," Blair said.
The state borrowed to cover those costs, but Blair said it saves more than $300 million in liabilities.
The totals for a separate buyout program for inactive yet vested members was lower, paying out 86 members about $12.5 million.
For the Teachers' Retirement System, which pays about $7.3 billion in benefits a year, Stan Rupnik said they've also had some buyouts.
"The automatic increase program, $328.6 million was paid out there and then the pension buyout, $218 million," Rupnik told the committee Monday.
A decade-old effort to lower benefits for newer employees by creating a Tier II employee hired on after 2011 is seeing different results, depending on the fund.
Blair said for state employees, judges and legislators, it's about an even split of Tier I beneficiaries and Tier II with fewer benefits.
"You look at where our liabilities are expected to grow in the year 2045 and compare that to where we thought it would be pre-Tier II, very significant," Blair said. "Billions of dollars."
For the Teachers Retirement System, Rupnik said it's not quite an even split.
"By the numbers I'm showing, it's about 105,000 members in Tier I and 54,000 in Tier II," Rupnik said. "So, about a two-thirds, one-third split currently."
The state's pension funds are about 40% funded.