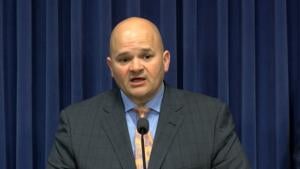 (The Center Square) – The impact of the COVID-19 variant omicron has caused slowdowns and worker shortages for Illinois manufacturers.
Mark Denzler, president and CEO of the Illinois Manufacturers' Association, told The Center Square that in spite of the slow start for the new manufacturing year, he expects production to pick up in the next few weeks – after omicron has peaked.
Despite a labor shortage, manufacturers want infected workers to stay home.
"Manufacturers are encouraging employees and family members to get vaccinated," Denzler said. "They are encouraging people to wear masks and take the appropriate steps to prevent the spread of the virus. We don't want sick people in the workplace."
Those who are sick need not worry about coverage. Ninety-two percent of manufacturing jobs come with health insurance, a fact that manufacturers are proud of, Denzler said. The majority of manufacturing jobs also provide paid sick leave.
"We are a little bit different from the retail sector or some other sectors in that most people who work for manufacturers – if they test positive – they have some kind of paid time off and the ability to stay home," he said.
Last month, the U.S. Centers for Disease Control and Prevention (CDC) changed its voluntary guidelines for quarantine, cutting recommended isolation time for people who have been exposed to COVID-19 from 10 days to five days – if they no longer show symptoms.
That change has helped manufacturers who continue to struggle with labor shortages on the production line, Denzler said.
"Most manufacturers have adopted that since the CDC has recommended it," he said.
Ironically, many of the essential supplies that are needed to fight the virus – including PPE and home test kits – are produced by Illinois manufacturers, Denzler said.
"Whether its food or medicine or test kits, we have a very strong biopharmaceutical sector that is making a lot of the products that we need to get through the pandemic," he said.
The big takeaway from the pandemic is the need to rejuvenate American manufacturing, Denzler said.
"If the pandemic has taught us anything, it's the need for a strong American manufacturing sector," Denzler said. "We need to make sure that we make these products right here in Illinois and in the United States so that we don't have to rely on ordering some of these products from China or from Asian countries or from Europe."