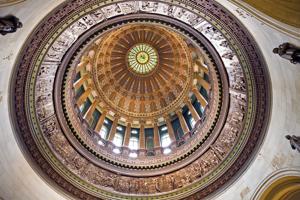 Democrats respond on DCFS issues
Some statehouse Democrats are responding to Republicans' calls for hearings on problems with the Illinois Department of Children and Family Services.
House GOP members Thursday blasted Democrats for their silence on a range of issues.
Democratic state Sen. Julie Morrison said she's scheduled a Senate Health Committee to get answers from DCFS Director Marc Smith.
Secretary of State offices will remain closed through Jan. 24
Driver services facilities across the state will remain closed through Jan. 24.
Before the new year, the Secretary of State's office announced that because of COVID-19 case rates, they'd close for two weeks, but Thursday they extended that.
There are a variety of services available online, but not all. CDL testing will reopen on Jan. 18 in Springfield, Rockford and Marion.
Mancow plans to run for governor as independent
He's running for governor, but as an independent. Former radio show host Eric "Mancow" Muller announced this week, as an independent candidate, he will be seeking to take on Gov. J.B. Pritzker and whoever the Republican nominee will be.
Republicans and Democrats began circulating nominating petitions for the June primary Thursday.
In April, independent and other party candidates can begin circulating petitions to get on the November ballot.
Illinois vaccine rule expected to be withdrawn
It's expected the Illinois Department of Labor's COVID-19 vaccine or testing mandate on larger public employers in the state will be withdrawn after the U.S. Supreme Court shot down the Biden administration's temporary rule.
IDOL said if the high court struck down the mandate, Illinois' rule would be withdrawn.
Illinois could still develop its own rule, but it would be subject to the state's normal rule-making process.
Illinois among 39 states involved in student loan settlement
Thanks to a settlement with a student loan provider over allegations of widespread abuse, about 18,500 Illinois student loan borrowers will receive nearly $5 million in restitution payments from Navient, formerly Sallie Mae.
Around 5,200 Illinois borrowers will receive some of $133.5 million in debt cancellation.
The state will get a direct payment of $7.2 million.
Attorneys general from Illinois and several other states announced the settlement Thursday.
Kim announce bid for Illinois Attorney General
International business attorney Steve Kim announced he's running for Illinois Attorney General.
His campaign says he will work with federal officials to root out corruption and stand with law enforcement and crime victims.
If he advances out of the Republican primary, he'll take on Democratic Attorney General Kwame Raoul.