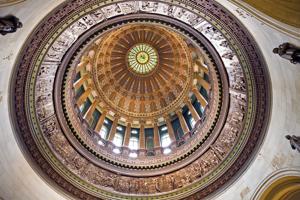 Municipalities prepare for COVID-19 vaccine mandate
As large employers hold out for what the decision will be from the U.S. Supreme Court on President Joe Biden's COVID-19 vaccine or testing mandate, Illinois municipalities with more than 100 employees are working to comply with the emergency rule.
Illinois Municipal League Executive Director Brad Cole said the rule likely impacts municipalities with a population of 10,000 or more.
If not shot down by the U.S. Supreme Court, the rule is in effect until July 24.
Some Illinois Department of Corrections facilities halt intake
Because of COVID-19 outbreaks at some Illinois Department of Corrections facilities, the state has temporarily halted inmate intakes from county jails.
Affected facilities are Graham, Logan, Menard and Northern Reception and Classification Centers. Sheriffs were notified Tuesday.
IDOC said when COVID-19 cases decline, space is expected to become available for jail intakes.
SGOs gear up to grant private school scholarships
Scholarship Granting Organizations approved by Illinois' Invest In Kids program are gearing up to grant scholarships to private schools.
The program was created in 2017. Empower Illinois will have students and parents and students line up online tonight to apply at EmpowerIllinois.org starting at 6:30 p.m.
The program is open to families under a certain income threshold with up to $15,000 in individual scholarships available.
COGFA says employment levels still below pre-pandemic levels
Illinois is still some distance away from pre-pandemic employment levels.
That's the latest from the Commission on Government Forecasting and Accountability.
The group's monthly briefing says while Illinois' employment figures are nearly 12 percent higher than the low point of the pandemic, it's still 1.7 percent lower than before the pandemic.
Despite that, income tax recipes continue to come in at "surprisingly steady levels," the group said.
Demmer looks to challenge Frerichs
Dixon Republican state Rep. Tom Demmer is looking to take on Illinois Treasurer Michael Frerichs this November.
But, there's still a primary he could face in June.
Democrats and Republicans vying for various statewide offices, state legislative seats or seats in the U.S. Congress are gearing up for ballot access petition drives that start Thursday.
People statewide gear up for Polar Plunge
Illinoisans from all over the state are expected to descend to Lake Michigan in the Windy City in March for the Chicago Polar Plunge.
The event, which benefits the athletes of the Special Olympics, is in its 22nd year. Last year the event was virtual due to the pandemic but still raised over $1,000,000.
This year the plunge takes place on March 6 at North Avenue Beach.