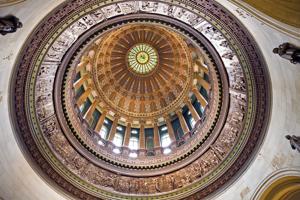 Criminal penalties for false COVID-19 documents up to 5 years in prison
Thinking of falsifying your COVID-19 vaccine status with your government job? Think again.
Rules now in effect require vaccines or testing for employees of governments with more than 100 employees.
The rule states criminal penalties for falsifying documents could be no more than five years in prison.
The fate of the vaccine or testing mandates is still up in the air with the U.S. Supreme Court.
Chicago students head back to class Wednesday
It's back to class for Chicago Public Schools Wednesday.
Late Monday, city officials that run the city's public school system and the Chicago Teachers' Union came to terms on a return to school.
Chicago Mayor Lori Lightfoot praised the agreement, but noted teachers in Chicago have caused uncertainty for parents and students with a third work stoppage in three years' time.
Illinois Board of Higher Education seeks 7% budget increase
The Illinois Board of Higher Education is looking for more money from taxpayers for universities across the state for the coming fiscal year.
The budget the IBHE board approved is $2.1 billion, which would reflect a 7 percent increase, or nearly $140 million, for general funds.
That doesn't include money for the State University Retirement System.
Durkin demands hearing after DCFS contempt ruling
Illinois House Minority Leader Jim Durkin is demanding answers about the director of the state's child welfare agency being held in contempt of court.
Durkin wrote the chairperson of the Illinois House Appropriations Committee urging a hearing with DCFS Director Marc Smith about two children being left at a psychiatric facility for months, despite being cleared to be placed with families.
Firefighters seek to leave SEIU
Firefighters in the Illinois village of Carpentersville are looking to remove the Service Employees International Union from their workplace, a move the SEIU is trying to block.
The National Right to Work Foundation says the Illinois Labor Relations Board was ready to schedule a decertification vote for later this month at the request of Carpentersville firefighters, but SEIU filed "blocking charges," attempting to stall the vote.
Chicago top city for bed bugs
Three Illinois cities have the dubious distinction of making a top 50 ranking of bed bug infestations in the country, including the top spot.
For the second year in a row, Chicago has been listed as No. 1 on Orkin's Top 50 Bed Bug Cities list. Also in the Orkin bed bug ranking, Champaign comes in at No. 13 and Peoria ranks 45th.
The list is based on where Orkin performed the most bed bug treatments from Dec. 1, 2020, through Nov. 30, 2021.