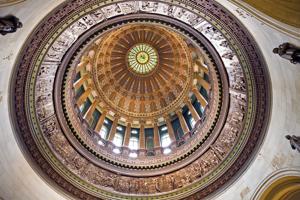 11 schools on probation over mask-optional policies
Because of mask-optional policies, eleven public and non-public schools are on probation, according to the Illinois State Board of Education.
Seven districts have been recommended for nonrecognition status.
Schools that are deemed not recognized by ISBE could lose state funding along with the ability to compete in sports programs with other schools.
Illinois residents requested more firearms background checks than any state
Illinois finished 2021 with the most firearms background checks of all states.
The Federal Bureau of Investigations shows nearly 8.5 million firearm background checks, more than double Kentucky's 3.8 million checks.
The FBI notes the number of firearms background checks does not reflect the number of firearms sold.
Michale Jordan memorabilia up for auction
Michael Jordan memorabilia has always been a hot commodity for collectors, even more so now following the release of ESPN's documentary "The Last Dance" chronicling the final year of the Chicago Bulls 1990s dynasty.
An auction event will take place in Las Vegas in March and will feature three unique items from Jordan, including the "Air Jordan" shoe which the All-Star wore when he broke his foot in 1985. It is expected to fetch up to $500,000.
Pritzker issues another consecutive COVID-19 emergency proclamation
Gov. J.B. Pritzker issued another consecutive COVID-19 emergency proclamation, marking the 22nd month that has brought dozens of executive orders ranging from the stay-at-home order in 2020, to closing schools and businesses and more.
The governor Friday also signed three measures lawmakers sent from legislative action last week: the new partisan judicial subcircuits, an election's law cleanup bill and a measure that allows a criminal suspect up to three unsupervised calls upon detainment.
Illinois Department of Labor files emergency vaccine rules
The Illinois Department of Labor filed emergency rules Friday requiring COVID-19 vaccine or testing mandates on employers with more than 100 employees.
The rule requires employers to test unvaccinated employees once a week and require they be masked. The next Illinois Joint Committee on Administrative Rules, where such emergency rule-making is overseen, is Tuesday.
Schools expect update on the COVID-19 isolation, quarantine guidance
Illinois schools can expect an update on the COVID-19 isolation and quarantine guidance to mirror the guidance from the U.S. Centers for Disease Control and Prevention that shortens the time period.
A memo published Friday by the Illinois State Board of Education says the two agencies plan to revise existing regulations and guidance documents to align with the CDC's update.