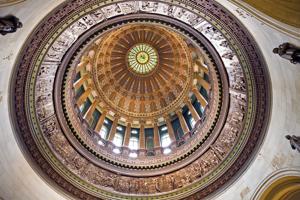 Arguments in cases brought by parents, teachers, against COVID mandates continue
Challenges against COVID-19 vaccine and mask mandates on teachers and school staff continue.
A Sangamon County judge heard the case dozens of school staff brought against 22 districts and the Pritzker administration and told litigants to come back in a couple of weeks for further hearings.
A case of more than 700 parents suing around 140 districts over mask and exclusion mandates on school kids will be heard Wednesday.
Lawmakers set to return to Springfield on Wednesday
Illinois lawmakers will return to the state capitol in Springfield Wednesday for one day this week.
The Legislature was scheduled to be in session on Tuesday and Thursday this week, but those days have been canceled out of concern of COVID-19.
It's unclear if lawmakers will return next week. They're scheduled in session through April 8.
Illinois GPD grows 1.9% in Q3
Illinois' Gross Domestic Product for the third quarter of last year grew by 1.9%, the highest of neighboring midwest states.
The U.S. Bureau of Economic Analysis shows a mixed bag.
Missouri's GDP grew 1.6%, Kentucky at 1.1%. Iowa grew at just half a percent in the third quarter. Indiana grew 0.2%. Wisconsin shrank by 0.2%.
Cannabis sales break monthly record
December cannabis sales broke monthly sales records with $137.9 million sold.
Illinois cannabis stores doubled sales over the prior 12 months. Monthly sales totals for all of 2021 published Monday show nearly $1.4 billion sold.
That's more than double the $669 million sold in 2020.
For the prior calendar year, in-state residents bought $943 million, out-of-state residents bought more than $436 million.
Taxes remitted to the comptroller for the prior calendar year total $387.7 million.
Illinois State Police offer opt-in updates for those waiting on FOID, CCL
Illinois gun owners wanting to get updates about their Firearm Owner's Identification Card or Concealed Carry License via electronic mail or text message to their cell phones can now opt-in.
The Illinois State Police announced the option by individuals logging into their account at ISPFSB.com and selecting to receive electronic communications, rather than by mail through the United States Postal Service.
Clark to take over as Illinois State Fair manager
There's a new manager for the Illinois State Fair. The Illinois Department of Agriculture announced Monday that Rebecca Clark will take the post.
Clark had previously been the public information officer for the Illinois Department of Agriculture and the Illinois Emergency Management Agency.
The previous manager, Kevin Gordon, retired after last year's expo concluded.