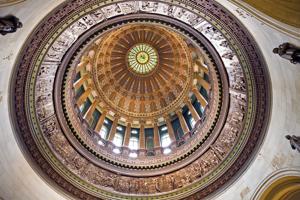 Pritzker to provide COVID-19 update today 
Gov. J.B. Pritzker is set to host a news conference about COVID-19 this afternoon.
Before the holiday, Pritzker's administration put out a joint statement with hospital leaders urging medical professionals to postpone elective procedures to keep hospitals from being overburdened.
This comes as the city of Chicago and Cook County implement vaccine mandates for certain indoor activities.
The Cook County village of Orland Park said it will not enforce the mandate.
Arbiter sides with Pritzker on vaccine mandate for some state employees
An arbiter has sided with the Pritzker administration's vaccine mandate for employees at the Illinois Department of Corrections and the Illinois Department of Juvenile Justice.
The announcement Thursday means 10,000 employees in those agencies will be required to get their first dose of a COVID-19 vaccine by Jan. 31.
Pritzker has had mandates for employees of other agencies for months.
Federal court panel sides with Democrats on legislative maps
A federal court panel sided with Democrats over challenges of their legislative maps for the next ten years.
The court Thursday ruled against the Mexican American Legal Defense and Educational Fund, the NAACP and Illinois legislative Republicans.
The maps are now in place for the next ten years.
IDPH to adopt CDC's revised quarantine rules
The Illinois Department of Public Health is adopting the Centers for Disease Control and Prevention's revised guidelines on isolation and quarantine for COVID-19.
The CDC cut in half the recommended isolation time for people who are infected with the virus but have no symptoms.
Under the new guidance, people who test positive but show no symptoms would only need to isolate five days instead of 10, but must continue to mask for five days after isolation ends.
University of Illinois study looks at reducing COVID spread on airplanes
A new University of Illinois study looks at reducing the risk of COVID-19 transmission on airplanes.
The researchers found that regardless of seating arrangement, masking reduced the risk of transmission by 30 percent over allowing passengers to unmask.
Spacing and passengers opening the air vents above their seats provided additional layers of risk reduction.
Avoiding the middle seat did little or nothing to prevent transmission since the virus can be transmitted in all directions.
New law aims to help survivors
With the new year, employers and employees in Illinois will be affected by a new law.
The Victims' Economic Security and Safety Act was amended to create the Violent Crime Victims' Leave Act, which allows employees who are victims of violence or have family or household members who are victims of violence to take up to 12 weeks of unpaid leave per any 1-year period.
The law allows survivors to seek medical aid, legal assistance and counseling without fear of losing their job.