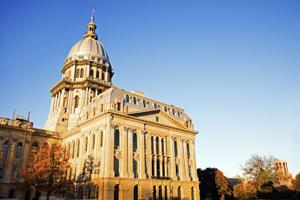 (The Center Square) – A $40 billion ask from Illinois at the beginning of the pandemic in 2020 developed into around $162 billion in federal taxpayer funds through 2021.
In April 2020, Democratic leaders at the statehouse sent a letter requesting the federal government send Illinois $40 billion for pensions, budget deficits and more.
Since then, the federal government approved $6 trillion in aid for all states.
The Committee for a Responsible Federal Budget tracked the spending for every state and their COVIDMoneyTracker.org website showed Illinois getting around $162 billion across all sectors, public and private.
CRFB Senior Vice President Marc Goldwein said while all states get funds, Illinois was an outlier for borrowing from a new Federal Reserve bond program.
"As it turned out almost nobody sold them those bonds because they didn't need to, with the exception being the state of Illinois and the [New York] Metropolitan Transit Authority," Goldwein said.
Over the summer, Moody's Investors Service this year upgraded the state's bond rating a notch from being just above junk status.
Gov. J.B. Pritzker hailed the move as an endorsement of the state's fiscal management.
"After eight credit downgrades our state suffered under my predecessor, I say with full certainty Illinois' fiscal condition is heading in the right direction," Pritzker said.
Ted Dabrowski, president for the nonprofit Wirepoints, said the only reason Illinois received the upgrade is the massive $160 billion in federal COVID relief funds across all sectors.
"Remember this is borrowed money by the federal government," Dabrowski said. "This is money that the federal government is printing, so it's not real money either. It will have to be paid back by taxpayers eventually."
The total committed or already spent for Illinois includes $64 billion in loans and grants for small, medium and large businesses, to aid for local and state governments totaling more than $14.1 billion, to the nearly $9 billion for K-12 and higher education.