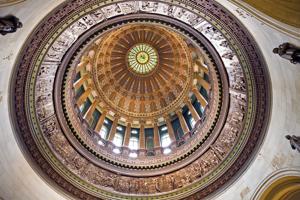 Vaccine rules set to go into effect in Cook County
With Cook County and the City of Chicago set to implement requirements for patrons 5 years and older to show COVID-19 vaccine proof to go indoors for a variety of venues, other municipalities aren't taking that step. Gov. J.B. Pritzker encouraged local municipalities to implement stricter mitigations.
In Springfield, Mayor Jim Langfelder said businesses and individuals will make their own decisions on such issues.
Changes to FOID coming in 2022
Changes to the Illinois Firearm Owner's Identification, or FOID, card are coming in the new year. Illinois State Police say the new cards will be printed without an expiration date.
If a FOID card holder also has a Concealed Carry License, those will be combined.
Illinois State Museum to expand Route 66 collection
The Illinois State Museum in Springfield is putting out the call for Route 66 items.
The expansion of such items is in preparation of an exhibit opening in 2026 celebrating the 100th anniversary of the Mother Road.
A significant collection has already been donated by the family of Bob Waldmire, an artist and peace activist who traveled from town to town in the later part of the 20th Century.
Information can be found at bit.ly/ISMRoute66.