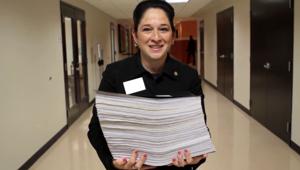 Vandalia schools continue to be mask optional despite ISBE threat
The school board for Vandalia public schools told the Illinois State Board of Education Wednesday it will keep its mask optional policy in place. ISBE said it's taking steps to put the district on probation.
An attorney for the district said officials have more concerns of parents suing for violating their student's due process rights, or alleging physical abuse and intimidation were they to enforce Gov. J.B. Pritzker's mask mandate in schools.
Report: Illinois among most transparent in disclsing COVID relief spending
Illinois is doing a better job than most other states when it comes to showing where federal tax dollars for COVID relief are being distributed.
GoodJobsFirst.org reports Illinois is one of six states in the country providing a detailed website to show where the billions of dollars are going.
Comptroller lists office's top achievements in 2021
Illinois Comptroller Susana Mendoza is heralding the top ten accomplishments for her office in 2021. Among them are decreasing the time it takes to pay bills from more than 200 days on average to around 20 days. Another accomplishment Mendoza said was working to end what she called an exit bonus, where lawmakers stepping down from office would get paid for the entire month even though they stepped down on the first of the month.
Secretary of State facilities close for holidays
Illinois Secretary of State facilities will be closed for the Christmas holiday.
The agency said facilities that operate on a Monday through Friday schedule will be closed both Thursday and Friday this week and will reopen Monday. Facilities operating on a Tuesday through Saturday schedule will be closed Friday and Saturday and open back up Tuesday.
Expired driver's licenses have been extended through March 31, 2022.
AG Veterans Guide updated
The Benefits for Illinois Veterans Guide from the Illinois Attorney General's Office has been updated.
The guide, available at IllinoisAttorneyGeneral.gov provides veterans and their families with information regarding both federal and state veteran benefits and the laws around those benefits.
Updates this year include details about benefits for veterans of Iraq and Afghanistan who may have been exposed to burn pit smoke or depleted uranium.
Training scheduled for future livestock managers
Interested in being a certified livestock manager? The Illinois Department of Agriculture and the University of Illinois Extension is hosting training and testing workshops through January and February.
Details are available at Go.Illinois.edu/CLMT.