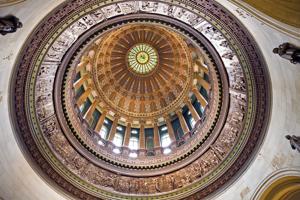 State population continues to decline
Illinoisans continue to flee the Land of Lincoln.
According to the latest figures from the U.S. Census Bureau, from July 2020 to July 2021, there were nearly 114-thousand fewer people in Illinois.
Only the District of Columbia and New York had a greater percentage decline in population.
Demographers say the outward flow of younger Illinoisans in the last decade is unprecedented.
Hospital beds decline amid omicron wave
While COVID-19 cases taking up hospital beds have increased in the past few weeks, the total number of overall available beds has decreased over the past year.
On Dec. 19, there were 845 ICU beds with a COVID-19 patient.
That's still shy of the 1,217 ICU beds that peaked on Nov. 29, 2020.
But from November 2020 to now there's been a decline of more than 1,000 overall beds.
Lightfoot mandates proof of vaccination for people at gyms, restaurants, venues
Starting Jan. 3, Chicago Mayor Lori Lightfoot will require gyms, restaurants and entertainment venues in the city to check the COVID-19 vaccination status of all patrons 5 and older.
The move comes in response to an increase in cases, including from the omicron variant.
Any person 5 years of age or older will be required to show proof that they are fully vaccinated.
Officials say fighter jet responsible for loud boom, shaking in Central Illinois
A sonic boom heard far and wide across Illinois was thanks to an F-15 fighter jet breaking the sound barrier above central Illinois.
The Illinois Emergency Management Agency said after collaborating with federal, state and local officials, it was determined the jet course-corrected creating the sonic boom.
FlightAware.com shows flight MCBLU74 leaving from near Pittsfield broke the sound barrier over Whitehall, going more than 1,140 mph.
Pope continues on as Legislative Inspector General to avoid vacancy
There won't be a watchdog vacancy after all.
Legislative Inspector General Carol Pope has agreed to stay on through Jan. 6.
Six months ago, Pope gave a Dec. 15 deadline to find a replacement, calling the office a paper tiger.
The chairperson of the Legislative Ethics Commission told legislative leaders in a letter the commission couldn't come to an agreement on a replacement last week and urged leaders to make filling the position a priority when they return Jan. 4.
$224 million planned to renovate parts of Illinois State Capitol
With a budget of around $300 million, the Office of the Architect of the Capitol plans a multi-stage, multi-year plan to renovate the north wing of the Illinois State Capitol.
The plan includes a new entrance to screen visitors and create more underground parking, tunnels and an underground conference space.
The total project will take years to complete.