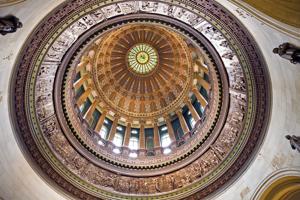 State updates reports on COVID-19 breakthrough cases
More than 5,000 vaccinated individuals in Illinois have contracted COVID-19 and landed in the hospital and 1,313 have died despite being vaccinated.
Data from the Illinois Department of Public Health doesn't track all breakthrough cases but does track hospitalizations and deaths of those who have been vaccinated.
Subjects of IEA video call it 'propaganda'
A political video published by the Illinois Education Association is being criticized as propaganda by the targets of the production.
The six-minute video attempts to connect various groups and individuals together, saying they're trying to make schools less safe and tear down teachers' unions. The first target is attorney Thomas DeVore.
He said the connection IEA is attempting to make is "ridiculous" and shows a level of arrogance toward parents suing over masks and other COVID-19 mandates.
New sports gambling laws including remote registration
New laws in Illinois will affect sports wagering in one of the biggest markets in the country.
Gov. J.B. Pritzker signed into law several gambling measures.
One allows bettors to place wagers on in-state college teams, but not on individual athlete performances or in-game action.
The bets can't be placed online and must be made in-person at state-licensed sportsbooks.
Report find failings within Cook County State's Attorney Office
A report about the investigation of Jussie Smollett shows failings within Cook County State's Attorney Kim Foxx's office.
That's according to the Chicago Tribune quoting Smollett special prosecutor Dan Webb after a judge ordered Webb's report of Foxx's handling of the case to be released.
Earlier this month, Smollett was found guilty of lying to police about being the victim of a hate crime in Chicago back in 2019.
Amazon holds off on change to cell phone policy
Amazon is holding off on a policy that would ban workers from using their cell phones after the fatal tornado at a fulfillment center in Edwardsville.
The company is backing off on plans to ban cell phones in warehouses, allowing employees to keep their devices with them at work.
Some Amazon warehouse workers received messages from the e-commerce giant last week that mobile phones will be allowed "until further notice."
Deer harvest dips
Firearm deer hunting season started strong in 2021, but didn't outpace last year's totals.
The 2021 preliminary harvest for the 7-day Firearm Deer Season ended with 71,675 deer reported, compared to 77,160 deer harvested in 2020, a difference of 5,485.