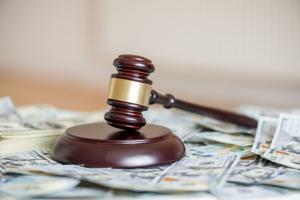 As a fourth generation Illinois business owner, I am not surprised to learn that Illinois is this year's 5th worst Judicial Hellhole in the country.
Up three spots from last year's rankings, Cook, Madison and St. Clair counties have some of the most dysfunctional legal environments in America and they play a central role in our state's economic struggles and our out-of-control cost of living. They are also catalysts in the mass exodus of Illinois businesses and residents, which saw 40% more people leave the state than move here in 2020.
The "hellhole" designation is due in large part to the fact that Illinois is one of the friendliest jurisdictions for plaintiff's attorneys in the nation, and the stats back it up. Over the past five years, legal advertising has skyrocketed 70% to well over $3 million annually, and Chicago alone had the highest total in the country.
All these advertising dollars add up to money well spent for the lawyers. Illinois lawmakers appear to spend more time tending to the needs of trial attorneys than to those of their constituents or struggling business owners. For example, Senate Bill 72, the Prejudgment Interest Act, puts defendants on the hook for 6% interest on future damages the day a lawsuit is filed, before they even have a chance to defend themselves in court.
As a result, many businesses are stuck between a bad choice and a worse choice: pay a fortune to fight frivolous lawsuits in court with a chance you will lose or pay a settlement to a legal troll in order to avoid legal fees, a possible loss in court, and inflated interest penalties. And this is necessary even if the lawsuit is meritless or the business is in the right. This is just the tip of the iceberg.
Illinois' courts may favor plaintiffs, but this doesn't come without a steep price. Attracting "excessive torts" to our courtrooms has resulted in almost 141,000 lost jobs, over $9.5 billion in lost wages, and over $27.5 billion in lost economic output. As businesses are forced to keep more legal defense money on the sidelines, pay more for insurance coverage, and take other precautions against predatory litigation. Eventually, workforces must be slashed and prices must be increased.
So, who really wins? Workers or their attorneys?
Sadly, this all comes to a head in the form of a "tort tax." According to the American Tort Reform Foundation (ATRF), lawsuit abuse costs each Illinois resident $1,049 annually. This is simply untenable in a mismanaged state where the average family of four owes more in unfunded pension liabilities ($76,000) than they earn in household income ($63,585).
In the legal world, experts call trial attorneys' search for the best courts for certain lawsuits "jurisdiction shopping." But in a country that prides itself on "equal justice under the law" and "innocence until proven guilty," why is shopping even possible? The principals of justice should be the same across the board, right?
Wrong. Unfortunately, it is "hellhole states" like our own that have warped the civil justice system and created an unfair playing field to be exploited by lawyers all over the country. Our lawmakers have increasingly favored one side of the coin at the expense of the other, and it hasn't all been above board, either (see former pro-trial bar Speaker of the House Michael Madigan's bribery scandal).
The country is still struggling through the COVID-19 pandemic, while dealing with record inflation and a labor shortage, but Illinois is getting hit harder than most. With increased costs, supply chain bottlenecks, and shrinking workforces one would think lawmakers might prioritize cutting burdensome, unnecessary costs on businesses to help them survive.
Wrong again. Instead, lawmakers are doubling down on their supposed "pro-worker" agenda by opening the floodgates for jurisdiction shopping and meritless lawsuits. In the end, this only exacerbates the job crisis as companies cannot afford to fight legal battles and pay all their employees resulting in businesses fleeing from the state and decreasing economic growth.
Thankfully, time hasn't run out to right the ship. Lawmakers must put special interests aside and meet this moment by prioritizing reduced costs for businesses so we can bring workers back, lower prices, and reignite our state's economic engine. This must be a top priority for our state lawmakers in 2022 if we want to get out of our legal hellhole.
Zach Mottl is the 4th generation of his family to own and operate Atlas Tool Works, Inc. in Lyons, Illinois.