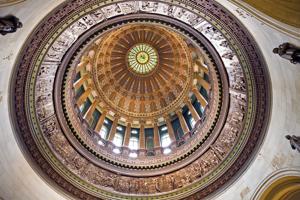 Labor force participation rate slides
Illinois' unemployment rate fell to 5.7 percent last month, but the states' percentage of eligible workers either working or seeking work remains lower than before the pandemic. The state's labor force participation rate was 62.8 percent in October. In October 2019, the labor force participation rate was 64.2 percent.
IDOT announces new app for truckers
A new app from the Illinois Department of Transportation for truckers provides more than just turn-by-turn guidance.
IDOT said the app for routine oversize and overweight permits is now available and will allow drivers to hear turn-by-turn guidance, but provides directions specific to the permitted load and route like what specific lanes to be in and alerts if they are off the designated route.
ProMiles is providing the app for free indefinitely.
Report highlights use of ARPA funds for Illinois broadband expansion
Thousands of Illinoisans, especially in rural areas, still lack sufficient access to broadband service, but that is about to change.
A new report from the Pew Charitable Trust highlights several states that are using American Rescue Plan Act funding for broadband.
Illinois is set to receive $100 million from the Infrastructure Investment and Jobs Act to expand rural broadband.
Unemployment rate falls to 5.7%
Illinois' unemployment rate fell slightly to 5.7 percent in November.
The Illinois Department of Employment Security reported nonfarm payrolls increased by 19,500 based on data from the U.S. Bureau of Labor Statistics.
In November, the three industry sectors with the largest gains in employment included leisure and hospitality, trade, transportation and utilities, and construction.
GOP gubernatorial field grows
A new possible Republican candidate for Illinois governor has possibly emerged.
Sources say that Aurora Mayor Richard Irvin is strongly considering running against Governor J.B. Pritzker.
If he declares, sources tell WGN that billionaire Ken Griffin and multiple elected Republican officials would back Irvin and endorse him over the rest of the already declared GOP candidates.
Bucktown neighborhood group hires private security services to curb crime
A neighborhood group frustrated with rising crime in Chicago has hired a private security firm to patrol local streets and Mayor Lori Lightfoot isn't happy.
The Bucktown Neighbors Association hired P4, a private security firm, for $190,000 a year, to have an armed off-duty or recently retired law enforcement officer keep the area safe, Block Club Chicago reported. The move comes after an increase in crime in the area.
Lightfoot said patrolling the streets of Chicago remains the "sole province" of the Chicago Police Department, the outlet reported.