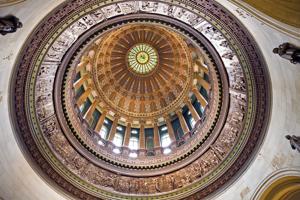 Lawmakers look to curb 'smash and grab' theft rings
Democrat leaders in the Illinois Senate say they are aware of the issue of organized retail theft and are in ongoing discussions with retailers about how to address it.
"We are well aware of this issue, and there are ongoing discussions with retailers about how to effectively address the problem. We are hopeful to have legislative proposals ready for the upcoming session."
Cannabis taxes go to community-based programs
With nearly $2 billion in total adult-use cannabis sales in the past two years, Illinois has collected $526 million in sales taxes.
A quarter of that is set to go to community-based programs in areas of the state negatively impacted by the war on drugs.
The Pritzker administration announced $45 million in grant opportunities with details at R3.Illinois.gov.
Ayala looks for feedback on school assessments
With educators challenging the effectiveness of standardized testing in Illinois, the state's School's Superintendent Carman Ayala said they are planning public forums and focus groups.
During Wednesday's Illinois State Board of Education hearing, Ayala said schools must do assessments to be eligible for around a billion from federal tax funds for schools.
State reports second case of omicron COVID-19 variant
There are now two cases of the omicron COVID-19 variant in Illinois.
The second case was posted by the Illinois Department of Public Health's variant tracker Wednesday.
The Cook County Public Health Department says the second case is in a suburban part of the county with a person who had two doses of vaccine and is asymptomatic.
Others are being tested for the variant.
Feds provide $25.2 million for Army National Guard locations
Federal spending for national defense includes a variety of projects for Illinois.
In an outline of spending provisions in the National Defense Authorization Act provided by U.S. Sen. Dick Durbin, there's a combined $25.2 million for Army National Guard locations in Springfield and Bloomington.
The measure also blocks any divestment for military units in places like Peoria.
GOP rips Pritzker after New York Times report
The Illinois Republican Party is reacting to reports from the New York Times that Gov. J.B. Pritzker is privately discussing running for president in 2024.
While Pritzker denies that, the paper says they stand by their reporting.
Illinois GOP Chairman Don Tracy said in a statement Pritzker should focus more on fixing the state's problems "instead of dreaming of the White House."