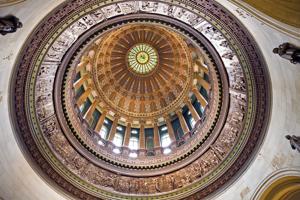 Durkin proposes bill to curtail smash-and-grab theft rings
House Minority Leader Jim Durkin has proposed an idea to curb smash and grab crimes.
Durkin's office said the legislation targets organized theft rings.
House Bill 4275, creates the crime of organized retail theft, a felony punishable by up to 15 years in jail if the value of the stolen goods is more than the state's current felony threshold of $300.
Watchdog vacancy means complaints against lawmakers won't be addressed
The office that takes in complaints against state lawmakers and either investigates or forwards allegations to other investigators is vacant after today.
Legislative Inspector General Carol Pope announced six months ago she would be stepping down, frustrated at the lack of independence for the office.
A meeting of the Legislative Ethics Commission is Thursday where a new inspector could be nominated.
MotorTrend names Rivan R1T 'Truck of the Year'
The Rivan R1T, made in Normal, Illinois, has been crowned the MotorTrend Truck of the Year for 2022.
The prestigious title is highly sought by automakers globally every year.
MotorTrend said the R1T, which is the first mass-produced electric truck in the U.S., is the most remarkable pickup truck they have ever driven.
The vehicle beat out pickups from Ford, General Motors and Hyundai.
Mendoza asks federal government to waive interest on unemployment loan
Illinois and other states that still owe tens of billions of dollars in pandemic unemployment debt combined are asking for a continued waiver of interest costs.
Illinois Comptroller Susana Mendoza's office said taxpayers shouldn't be on the hook for interest on $4.5 billion because the pandemic continues.
Taxpayers are on the hook for nearly $20 million as of Tuesday and it could reach more than $100 million if not paid.
Pritzker mum on expiration date for mask mandate
Gov. J.B. Pritzker still won't say if he'll let his mask mandate expire.
Pritzker let his mandate that was in place for more than a year expire in May, but then reissued a mandate in July.
The most recent mandate issued by executive order in August was reissued on Friday, which the Illinois Department of Public Health says expires January 8.
Another Republican joins race for GOP gubernatorial nomination
There are now five known candidates vying for the Republican gubernatorial nomination.
Max Solomon, a private practice attorney, announced last week he's seeking the GOP nomination. Solomon also announced a running mate in Latasha Fields.
Their platform is school choice, constitutional pension reform and government consolidation.