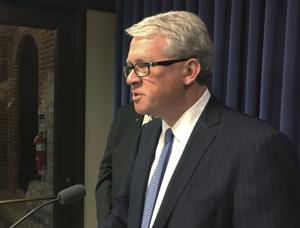 (The Center Square) – A state lawmaker hopes to advance legislation to combat what's described as "smash and grab" retail theft operations.
The issue is a problem in the Chicago area where Chicago Mayor Lori Lightfoot said something has to be done.
"We've got to send a message that if you do this you're going to be held accountable and when we do find them and we do charge them they've got to be held in custody, period, full stop," Lightfoot said at a news conference earlier this week.
She was asked about around $1 million in merchandise stolen from a luxury car dealer in Chicago's Gold Coast.
House Minority Leader Jim Durkin, R-Western Springs, said it's also happening in the suburbs. He filed House Bill 4275, which would create the crime of organized retail theft with a punishment of up to 15 years in prison if the value of stolen goods is more than $300.
The Illinois Retail Merchants Association said they appreciate the proposal, but plan to introduce their own solutions.
"While we appreciate Leader Durkin's continued support of the retail community as well as his efforts to ensure retailers can continue to operate safely in Illinois, we are in need of policies that best addresses the many complexities of organized retail crime," IRMA President and CEO Rob Karr said in a statement to The Center Square. "To that end, we will soon be unveiling a proposal that advocates for comprehensive solutions."
Durkin said he's glad they're coming forward with something because Democrats aren't doing anything about it.
"I'm floored that I have not received or heard any type of angst or at least aggravation from Democratic leaders of this state about this problem," Durkin said.
Democrats at the statehouse who say criminal justice should take a data-driven approach are silent, Durkin said.
"Well here's the data, $4 billion of retail merchandise ripped off in the most violent fashions organized by violent street gangs who know they can get away with it," Durkin told The Center Square.
Messages seeking comment from the offices of the House Speaker and Senate President weren't immediately returned.
Lightfoot said everyone in the ecosystem has to work collaboratively, from retailers, to police, to social media companies.
"They've got to be policing their website and make it not be open season for the sale of stolen goods," Lightfoot said.
Karr said retail theft isn't a victimless crime.
"Illinois has become the epicenter for these types of crimes, with organized retail theft growing over 60% in just the last five years," Karr said. "It is more important than ever before that elected officials work with members of the retail community to ensure Illinois is no longer an easy target."
He said profits from organized retail crime drives other criminal activities like illegal firearms purchases, human trafficking, and terrorism. It also erodes sales tax revenues and threatens retail viability.