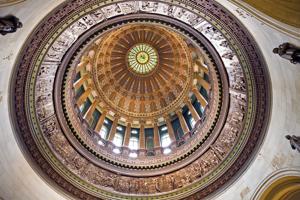 Former Bears wide receiver gets 3 years for PPP fraud
Former Chicago Bears wide receiver Josh Bellamy has been sentenced to three years in prison for fraudulently receiving coronavirus relief loans.
The 31-year-old obtained a PPP loan of $1.2 million for his company, Drip Entertainment, and used the money to buy more than $100,000 in luxury items.
Bellamy also allegedly sought PPP loans on behalf of his family members and close associates.
Rivian Automotive to build second factory in Georgia
Rivian Automotive, which makes electric vehicles in Normal, has picked Georgia as the site of its second factory.
Bloomberg reported that the company chose Georgia over Texas and Arizona to build EVs and batteries.
Rivian rolled out R1T pickup trucks in September from the Normal plant, and plans to produce SUVs by the end of this year.
Illinois has a new favorite Christmas movie
A study of the most popular Christmas movies in each state has a surprising result for Illinois.
The consumer website Comparitech focused on the most popular movies from the past six years, and Illinoisan's favorite is "Krampus."
The film is about a young boy summoning a festive demon to his family Christmas.
COVID-19 hospitalizations continue to increase
The number of people with the COVID-19 vaccine who are hospitalized with COVID-19 continues to increase alongside hospitalizations of those who aren't vaccinated.
State data shows from Dec. 1 to Dec. 8, there were more than 370 vaccinated patients with COVID-19 in the hospital, more than double the week before.
Total COVID-19 hospitalizations are more than 3,200, just over half of what it was this time last year when vaccines weren't available.
Contaminated cannabis not recalled
Legal weed tested in Illinois had contaminants like mold and yeast exceeding state limits, but wasn't recalled.
That's according to the Chicago Sun-Times, which says it commissioned a state-licensed lab to test legal cannabis products.
The report also says tests indicate consumers may not be getting the potency they're paying for. Taxes on pot sales differ on how much THC is listed for various products.
Amtrak leader says service reductions on horizon
Amtrak's president said the company may need to reduce service in January unless more employees get vaccinated against COVID-19.
Stephen Gardner said about 95% of Amtrak workers are at least partially vaccinated.
The remainder of the workers must comply with a Jan. 4 deadline that the Biden administration set for employees of federal contractors.