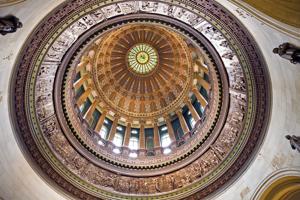 Lawmakers look to reprioritize Illinois State Police focus
After adverse audit findings such as poor oversight of property and lax record keeping of tax dollars, state lawmakers are looking to prioritize some of the focus of the Illinois State Police.
ISP Director Brendan Kelly said staffing has been an issue.
State Rep. Fred Crespo said he's drafting legislation to shift Medicaid fraud investigations from ISP to the Illinois Attorney General to help refocus ISP staff.
Report says sustainable use of federal stimulus key for state, local governments in 2022
A new report says Illinois' use of remaining federal stimulus dollars will be key to the state's economic success in 2022.
Fitch Ratings' outlook for Illinois' and U.S. states and local governments in 2022 is neutral relative to surprisingly strong 2021 underlying business conditions.
Governments with slower or stagnant revenue growth prospects may see an emerging or growing mismatch and increased pressure on budget-balancing tools, Fitch said.
Jury finds Smollett guilty in fake hate crime case
Jussie Smollett's attorneys say they plan to appeal guilty verdicts against the actor for lying to police about a hate crime.
Smollett was found guilty by a jury in Chicago on Thursday evening on five of six disorderly conduct felonies and could face up to 3 years in prison.
Smollett's defense attorney said they will appeal all the way to the Illinois Supreme Court.
State minimum wage to increase Jan. 1
The state's minimum wage is set for another increase at the first of the year.
Beginning Jan. 1, 2022, employers will have to pay at least $12 an hour, up from $11. A dollar per year increase ends in 2025 at $15 an hour.
Also starting Jan. 1, tipped employees go from $6.60 an hour to $7.20.
Youth workers less than 650 hours per year get $9.25 an hour, up from $8.50.
Man returns library book half century late
An Orland Park man has finally returned a library book to Monmouth College that was a bit overdue.
John Carlson checked out the book "Battles on the Monsoon: Campaigning in the Central Highlands" from the Hewes Library in 1972.
Carlson, who served in the Army and the Reserves for 30 years, finally stopped by the library to do what he called "fessing up" for the nearly 50-year past-due book.
Hewes Library waived the enormous overdue fee.
College looks to ease shortage of substitute teachers
Monmouth College is leading the charge to take part in a teacher-prep program, working with school districts in the college's area.
The short-term substitute program allows college students who are student teaching to fill in when their cooperating teacher is out of the day.
The districts had 30 open substitute positions in November, and 28 student teachers signed up.