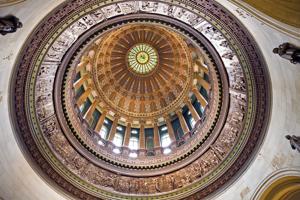 3 Illinois casinos move to the next stage
Illinoisans who want to gamble in a casino setting will have three more options. On Wednesday in Carterville, officials broke ground on a new gaming facility at the Walker Bluff winery.
The Illinois Gaming Board also approved two new casinos to be located in Waukegan and the Homewood/East Hazel Crest area.
Overall in 2021, Illinois casinos have generated over $864 million in total revenue outside of sports betting. Casino gaming has generated nearly $162 million in tax receipts for the year.
Legislative Audit Commission meets Thursday
The Legislative Audit Commission hears a variety of audits today.
Among them are a compliance audit and management audit of the Illinois State Police, including its handling of gun owner ID applications.
The commission will also review separate compliance audits of Chicago State and Northeastern Illinois universities.
Task force stalls on police immunity proposals
A task force with the Illinois Criminal Justice Information Authority stalled out in trying to advance proposals to the General Assembly on whether people can bring lawsuits against individual police.
After two opposite proposals both failed to advance, the committee took a pause.
It's unclear if the group will make the end-of-the-month deadline to produce a report.
Pension debt continues to climb
Illinois' unfunded public employee pension obligations have increased by more than $120 billion in 25 years.
And while a recent report shows strong returns on investment, the unfunded ratio is between 42 and 46 percent.
Actuaries recommend funding pensions 100 percent over several years.
Pritzker's administration said in a letter the state's goal of 90 percent must be sufficient because of ongoing fiscal constraints.
Dozens of educators sue governor, 22 districts over vaccine, mask mandates
About 90 teachers and school staff are suing their school districts and Gov. J.B. Pritzker's administration over COVID-19 mandates.
The suit filed in Sangamon County by attorney Thomas DeVore seeks judgments against requiring vaccines, masks, testing or exclusion policies without orders of quarantine.
It also alleges the vaccination or testing program violates the state's Health Care Right of Conscience Act.
School pivots to remote learning
A central Illinois school is starting an "adaptive pause" because of increased COVID-19 cases.
Tri-City Schools outside of Springfield said starting today they'll be remote until Jan. 10. It's unclear how many other schools have taken similar steps allowed in consultation with local health officials.
The Illinois State Board of Education doesn't track such data.