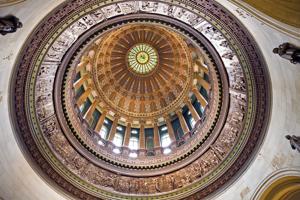 First omicron COVID-19 case reported in Illinois
Illinois found its first case of the omicron COVID-19 variant.
The Illinois Department of Public Health Tuesday evening said the case was a Chicago resident who was fully vaccinated with a booster dose and didn't require hospitalization and has been self-isolating since symptoms began.
Pritzker not planning further vaccine mandates
Don't expect further vaccine mandates for the private sector in Illinois.
Gov. J.B. Pritzker says he's not planning to mandate vaccines for all businesses as the outgoing mayor of New York City has done.
Pritzker does have vaccine mandates in place for healthcare workers, educators and some state employees.
Jury to begin deliberations in Smollett case
The jury in the case against former "Empire" actor Jussie Smollett is expected to begin deliberations.
Smollett is accused of staging a hate crime against himself. He revealed this week that he was tipped off via text by CNN's Don Lemon that Chicago police didn't believe his account of the attack.
Closing arguments from the special prosecutor and Smollett's are scheduled today. If convicted, he could face jail time.
Federal court to decide fate of legislative maps
Illinois' legislative maps are now in the hands of a federal court.
Plaintiffs attorneys separately representing minority rights groups and Republicans presented their arguments against the Democrats' statehouse maps for hours Tuesday.
Attorneys for the Democrats defended the maps.
The three-judge federal panel said they're taking the issue under advisement but may request more information.
Illinois Attorney General secures $40 million in FTC case
Remember the Pharma Bro Martin Shkreli? He's still in prison for securities fraud.
But, Illinois Attorney General Kwame Raoul's office says, along with other states and the Federal Trade Commission, they've secured $40 million in a separate case involving another actor in the scheme that had Shkreli's company increase the price of a drug to treat a parasitic disease by 4,000%.
Litigation against Shkreli is ongoing.
State designates funds for Illinoisans behind on water bills
Low-income households in Illinois can now access some of $42 million in taxpayer funds to avoid water shutoffs.
Gov. J.B. Pritzker announced the spending for the Low-Income Household Water Assistance Program with information at HelpIllinoisFamilies.com.